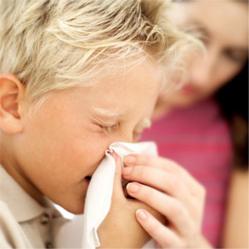 Imagine when you were a kid, if your mom or dad would have asked you how you'd like your medicine to taste.
Columbia, Maryland (PRWEB) March 31, 2012
It seems Old Man Winter took a vacation this year, much to the chagrin of snow-day seeking schoolkids across the country. In fact, this winter turned out to be the warmest in 12 years and, according to the National Oceanic and Atmospheric Administration, the 4th warmest since 1895.
In addition to lower-than-expected sales of ski and snowboard wax, one of the consequences of such an unseasonably mild winter has been an early and particularly vicious start to the Spring allergy season. Cities across the East Coast are breaking pollen count records every day. Folks are sneezing and sniffling their way through eye-watery days, and it's not even April! The worst part? It's estimated that 40% of children in the U.S. suffer from seasonal allergies.
Luckily for most parents, there are some very effective non-sedating prescription and over-the-counter allergy medications available for children today. Medications like Allegra®, Claritin®, and Zyrtec® come in a children's liquid form and can be purchased over-the-counter or with a prescription. The best part? Pharmacies that carry the FLAVORx system can now customize the taste of children's liquid allergy medications (and any other liquid medications for that matter) to a child's favorite flavor.
This simple act of choosing a favorite flavor goes a long way in making sure kids take their medicine. "Imagine when you were a kid, if your mom or dad would have asked you how you'd like your medicine to taste," said Chad Baker, vice president of marketing at FLAVORx. "How much better would your medicine-taking experience have been if the medicine tasted like something you wanted to take, instead of something you had to take?"
FLAVORx flavors are sugar-free, dye-free, casein-free and gluten-free. 40,000 pharmacies across the U.S. offer the flavoring service for liquid medications, including liquid children's allergy medicine. When parents request custom flavoring for their child's medication, the pharmacist or pharmacy technician will provide them with a list of available flavors, including the top recommended ones for that specific medication. For example, the top three FLAVORx flavors for Claritin® are grape, banana, and cherry. For Allegra®, they are watermelon, bubblegum, and strawberry. The three best FLAVORx flavors for Zyrtec® are apple, bubblegum, and cherry. For a complete list of liquid medications and recommended flavors, use the interactive FLAVORx Wheel of Yuck.
Seasonal allergies are nothing to sneeze at. Oh wait, yes they are. Especially this year. And even more so for kids. So when it comes time to get liquid allergy medicine for their children, parents would be wise to do their kids a flavor, and request FLAVORx.
About FLAVORx Inc.
FLAVORx is a medication compliance solutions company based in the Baltimore / Washington, D.C. area. They have been helping pharmacists help people take their medicine since 1994. Using FLAVORx's copyrighted flavoring recipes, pharmacists have safely flavored over 47 million prescription and over-the-counter medications for children, making it easier for them and their parents to deal with the stresses of being sick. Pill Glide, FLAVORx's newest product, expands their medication compliance focused offerings and continues the company's mission of improving lives and health-related outcomes through higher adherence. For the latest company news, follow FLAVORx on Facebook.