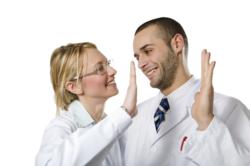 FLAVORx is thanking pharmacists for their hard work and constant efforts to improve patient care.
Columbia, MD (PRWEB) October 04, 2012
October 1st marks the first day of American Pharmacists Month. American Pharmacists Month is a time to recognize pharmacists for the hard work they do every day. From research labs to hospitals to drug stores, pharmacists have a continued dedication to the healthcare field. Pharmacists do much more than simply dispense medicine. They are healthcare advocates who are involved in hands-on patient care. From consulting patients on drug interactions to administering flu shots and blood pressure tests in pharmacies, the work of a pharmacist is multi-faceted and multi-functional. They are vital to improving and maintaining the health of patients across the country.
FLAVORx's product is utilized in drug store and hospital pharmacies nationwide. This October, FLAVORx is thanking pharmacists for their hard work and constant efforts to improve patient care. To honor them, FLAVORx will be hosting a month-long celebration of pharmacists on the FLAVORx page on Facebook. Pharmacists and anyone associated with pharmacists are encouraged to join in on the fun by going to http://www.facebook.com/flavorx.
October 23rd also marks National Pharmacy Technician Day. Pharmacy Technicians are valuable pharmacy employees who also work tirelessly to improve the health of the patients in their communities. FLAVORx will be honoring pharmacy technicians on October 23. Technicians can head to FLAVORx's page on Facebook for a celebration all day long on October 23rd.
This October,be sure thank your local pharmacy staff. They work hard each and every day to improve the health of all of their patients.
About FLAVORx:
FLAVORx is a medication compliance solutions company based in the Baltimore / Washington D.C. area. They have been helping pharmacists help people take their medicine since 1994. Using FLAVORx's copyrighted flavoring recipes, pharmacists have safely flavored over 50 million prescription and over-the-counter medications for children, making it easier for them and their parents to deal with the stresses of being sick. In 2009, FLAVORx and Fillmaster Systems partnered to begin development of the Fillmaster Plus, an automated water dispensing/flavoring machine for liquid and reconstitutable medications. Pill Glide, an over-the-counter product, expands the company's medication compliance focused offerings and continues their mission of improving lives and health-related outcomes through higher medication adherence and compliance. For the latest company news, follow FLAVORx on Facebook.