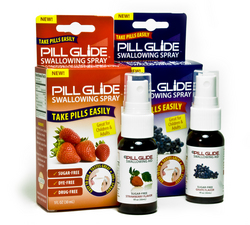 We're so appreciative of the positive response to Pill Glide from parents and their children
Columbia, MD (Vocus) August 10, 2010
As families across the country prepare for the first day of school, one thing is certain: kids are eventually going to come home with sniffles, sneezes and fevers. In fact, the 2008 National Health Interview Survey for U.S. children by the U.S. Centers for Disease Control and Prevention found that 23 million school children ages 5-17 (43% of the total) missed 3 or more days of school due to illness or injury. And, 8.6 million kids missed 6 or more days. It's a fact: the beginning of the school year signals the beginning of cough, cold and flu season. As most moms and dads know, getting a sick child to take medicine can be a major struggle. This year, parents have two new at-home allies in the fight to keep the medicine down: Pill Glide, the flavored spray that helps older kids and teens swallow tablets and capsules, and Yo Gabba Gabba! Medicine-Time Flavor Spray, the taste bud coating spray to help toddlers easily take unpleasant tasting liquid medications.
"We're so appreciative of the positive response to Pill Glide from parents and their children", says Stuart R. Amos, President and CEO of FLAVORx. "Pill Glide was originally developed for the large segment of adults who don't enjoy the experience of taking tablets and capsules. When we brought it to market, we quickly learned that many kids and teens have a tough time swallowing pills as well." Pill Glide is a water-based, sugar-free, non-medicated liquid that is sprayed in the mouth immediately before taking a tablet or capsule. The spray coats the tongue and back of the mouth, helping the medication, vitamin or supplement slide down the throat with ease.
For children who have difficulty taking liquid cough, cold, flu or pain-relieving medicines, Yo Gabba Gabba! Medicine-Time Flavor Spray is an excellent solution. The product is a flavored spray designed to coat a child's tongue and mouth with a sugar-free, dye-free, Dazzleberry flavored liquid. By covering the taste buds of the tongue, Yo Gabba Gabba! Medicine-Time Flavor Spray helps mask the bitter taste of many liquid medications, dramatically improving the experience of medicine-time for children. To use it, parents simply spray the product in their child's mouth before and after administering a dose of medicine.
While no one knows with certainty why kids tend to get sick more often during the school year, we do know that many of these children are not going to like taking their medicine. This year, parents will be better prepared with Pill Glide & Yo Gabba Gabba! Medicine-Time Flavor Spray.
For detailed information on Pill Glide, including availability in stores, visit http://www.flavorx.com/pillglide.asp
For detailed information on Yo Gabba Gabba! Medicine-Time Flavor Spray, visit http://www.flavorx.com/medicinetimeflavorspray
About FLAVORx Inc.
FLAVORx has been helping people take their medicine since 1994. The Columbia, MD based company's mission is to improve lives and health-related outcomes through higher medication adherence. The FLAVORx Pediatric Flavoring System is available in over 35,000 pharmacy locations across the country, including CVS/pharmacy, Walgreens, Rite Aid, Target, Walmart and Publix pharmacies. A complete list of participating FLAVORx pharmacies is available at their Pharmacy Locator web page. Using FLAVORx's copyrighted flavoring recipes, pharmacists have safely flavored over 40 million prescription and over-the-counter medications for children, making it easier for them and their parents to deal with the stresses of being sick. FLAVORx also supplies pharmacists and veterinarians with veterinary prescription flavoring systems to make pet medications easier for owners to administer and for pets to take.
###