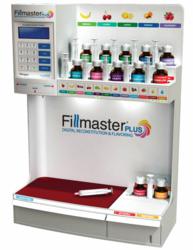 With back-to-school season coming up and cold/flu season right behind it, there couldn't be a better time for pharmacists and technicians to consider our products for their stores
Columbia, Maryland (PRWEB) July 31, 2012
Pharmacists and technicians looking for innovative ways to enhance the customer experience, add to the bottom-line, and improve efficiency behind the counter should be sure to visit the FLAVORx booth at VPhA's 131st Annual Convention. On display and available for purchase will be the popular Fillmaster Plus automated dispensing and flavoring system, the FLAVORx Pediatric flavoring program, and the FLAVORx Veterinary compounding system.
"We're excited to meet Virginia's finest pharmacists and pharmacy technicians at the VPhA Convention", said Chad Baker, vice president of marketing for FLAVORx. "With back-to-school season coming up and cold/flu season right behind it, there couldn't be a better time for pharmacists and technicians to consider our products for their stores."
Available for demonstration at the conference will be the new Fillmaster Plus automated dispensing system. This unit combines the unique aspects of what Fillmaster Systems and FLAVORx offer into a leading-edge piece of pharmacy automation equipment. Pharmaceutical reconstitution, which in many cases is a manual, time-consuming, error-prone process, can now be accomplished at the push of a button with great accuracy. The integrated FLAVORx prescription flavoring system allows pharmacists and technicians to then offer their customers a choice of flavors for any liquid medication they dispense, a truly valuable service to parents. In fact, a recent consumer survey found that 85% of parents feel the taste of their child's medicine is important to them. The same survey found that close to 90% of parents would accept a pharmacist's recommendation to have a medication custom-flavored and parents who have had a child's medicine custom-flavored are more satisfied with their pharmacy than those who haven't.
While the Fillmaster Plus is understandably the highlight of the show, FLAVORx will be exhibiting three additional products that are exciting in their own right. The FLAVORx Pediatric program is a standalone custom-flavoring tool for liquid medications. By offering children a choice of many flavors for their medicine, certified FLAVORx pharmacies keep mom and dad happy while generating extra revenue and new business for their store. The FLAVORx Veterinary system provides pharmacies with a turn-key solution to attract profitable pet pharmacy business to their store as well. And Pill Glide, a new OTC product from FLAVORx, finally gives pharmacists a proven method to help any patient experiencing difficulty swallowing tablets and capsules.
VPhA's Annual Convention takes place August 5 – 8 at the Wyndham Virginia Beach Oceanfront hotel in Virginia Beach.
About FLAVORx Inc.
FLAVORx is a medication compliance solutions company based in the Baltimore / Washington D.C. area. They have been helping pharmacists help people take their medicine since 1994. Using FLAVORx's copyrighted flavoring recipes, pharmacists have safely flavored over 43 million prescription and over-the-counter medications for children, making it easier for them and their parents to deal with the stresses of being sick. In 2009, FLAVORx and Fillmaster Systems partnered to begin development of the Fillmaster Plus, an automated water dispensing/flavoring machine for liquid and reconstitutable medications. Pill Glide, an over-the-counter product, expands the company's medication compliance focused offerings and continues their mission of improving lives and health-related outcomes through higher medication adherence and compliance. For the latest company news, follow FLAVORx on Facebook.