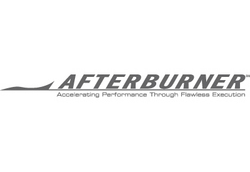 Anthony is just one example of how the Embed program has been changing the way American companies view our elite military leaders.
Atlanta, GA (PRWEB) April 20, 2010
Afterburner, Inc., the global authority on the Flawless Execution model and a leading team building, training, and consulting firm based in Atlanta, GA, is pleased to announce that upon graduation from its Flawless Execution University, Anthony Roberson has been placed at Boston Scientific as the Director of Business Execution. Over the past year, the company has helped thousands of ex-military leaders transition to the corporate world using the Flawless Execution methodology, including Roberson. Known as Embed, Afterburner's unique military leadership development program is both a strategic staffing service and a human capital development tool that helps elite military professionals prepare for the corporate world and accelerate their careers.
During the Embed program, candidates who are transitioning from the military are placed in the Flawless Execution University, or FLEX U, to acquire an in-depth knowledge of the Flawless Execution cycle's purpose, process and platform as well as how to leverage it as a performance accelerator in the organization they are joining. Roberson joined the Embed program after retiring from the US Air Force with twenty years of service. "I've logged over 2,000 hours as an F-16 instructor, flying in life or death missions around the world," said Roberson. "Through extensive, hands-on training, the Air Force taught me how to lead people and meet goals successfully. Afterburner's Embed program leveraged this pre-existing knowledge to help me apply it to the business world effectively."
Once candidates have been immersed in the Flawless Execution methodology, they are matched with Afterburner's client organizations, all of which come to Afterburner seeking the inherent value these elite former or transitioning military leaders bring to the table. "Anthony is just one example of how the Embed program has been changing the way American companies view our elite military leaders," said James D. Murphy, CEO of Afterburner. "Flawless Execution delivers the kinds of tools and solutions businesses need to thrive in today's world – and our graduates emerge ready to put these tools into action." For more information on the powerful capabilities presented by Embed for former or transitioning military leaders, please call 1-800-261-2912 or visit afterburnerplacement.com/contact.htm.
About Afterburner Embed
Afterburner, the global leader in Flawless Execution solutions, is embedding its Flawless Execution model and culture into organizations worldwide. Afterburner's Embed division is a strategic placement service for elite military professionals transitioning from military to civilian careers. With offices in the United States, Australia, and China, the company has performed events in 38 countries, has trained over 1.5 million business professionals, and has had its materials translated into more than 20 languages. At Afterburner, "Leading the World's Top Organizations to Flawless Execution" is more than just a slogan—it's the foundation of the company. To learn more about the Embed program, please visit AfterburnerPlacement.com.
###