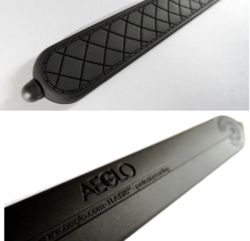 With two more days remaining in our campaign, we will keep fighting until the end.
Hong Kong (PRWEB) April 09, 2013
FLAXUS is one of those nostalgic snap bracelets that also doubles as a stylus for devices with capacitive screens. On the go, wearers can worry about the more important things while having their stylus available at a moment's notice. While extended, FLAXUS is strong and sturdy, but while coiled, it can be wrapped around a wrist for easy access or hooked to a bag.
Carrying a conventional stylus is inconvenient in that users need somewhere to put it, whether it be in their pocket, bag or purse. Not only do users have to carry them around, but what happens when they forget their stylus or misplace it? A pen-shaped stylus can be uncomfortable in a pocket, and although pocket-sized styluses may be easier to carry, they're often too tiny to write with. But, with the FLAXUS slap bracelet/stylus, those on-the-go have a stylus at all times.
Jack Chau, Founder of AEGLO, launched a Kickstarter campaign for the FLAXUS wearable stylus with the hopes of raising $10,000 to cover production costs. And, Chau has done just that. With two days remaining in FLAXUS' crowdfunding campaign, the stylus has raised over $10,800, but hasn't stopped yet.
"I'm so thrilled to see our project reach over 100% of its funding goal on Kickstarter. We're truly grateful for all of the support we've received," says Chau. "With two more days remaining in our campaign, we will keep fighting until the end."
Supporters of FLAXUS can order a pair of the wearable styluses for just $24 by visiting http://bit.ly/FLAXUSKS and clicking the green "Back This Project" button. Keep in mind, FLAXUS will retail for $16-$19 each once its Kickstarter campaign has ended. Not only is Chau offering the wearable styluses in exchange for making a donation to his project, but he is also offering touchscreen gloves, speakers, Limited Edition FLAXUS styluses and more.
To learn more about FLAXUS or to place an order for a pack of two, visit http://bit.ly/FLAXUSKS on or before April 12 at 12:10am EST.
About AEGLO
AEGLO™ stands for Alpha . Evolution . Gear . Lifestyle . Original., and serves as the official store for those who seeks trendy, fashionable, and lifestyle enhancing products. We are a dynamic team who are obsessed in bringing cutting-edge, stylish, and extremely functional products to the marketplace. We design, define, or discover products that strive to enhance your individuality by merging technology with stylish elements. From producing our own designed items to collaborating with other creative minds, our goal is to bring you unique products that are one of a kind. For more information on AEGLO, visit http://www.aeglo.com, Like them on Facebook and Follow them on Twitter @AEGLObrand.