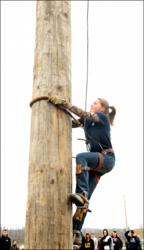 We can't thank Pioneer Millworks enough for their donation and support of our event and the college
Farmington, New York (PRWEB) April 30, 2013
Continuing their support of Finger Lakes Community College (FLCC), Pioneer Millworks transported and donated the climbing pole for the Northeast Collegiate Woodsmen Conclave held in April. The FLCC woodsmen teams enjoyed a successful event with the men, women, and jack/jill teams winning the Pole Climb in their divisions.
"The coaching staff could not be more proud of each of our student athletes," said Ryan Staychock, head coach of the FLCC woodsmen. "We can't thank Pioneer Millworks enough for their support of our event and the college."
The pole was transported with other reclaimed wood products from Pioneer Millworks Portland, Oregon location to their headquarters in Farmington, New York where it was re-loaded and delivered just a few short miles away to FLCC. The climbing pole was the latest donation to FLCC, following a reclaimed wood display case, and reclaimed wine vat stock podium.
"We were very excited to be able to help out the FLCC woodsmen team. We like to say our folks have sawdust in their DNA akin to the woodsmen athletes," said Jennifer Young, General Manger of Pioneer Millworks. "This is a good educational institution with eco-friendly goals we're happy to support each year."
Pioneer Millworks is the leader in the reclaimed wood industry. To date, they've rescued nearly 22 million board feet of old wood from rot and landfills, giving it new life as flooring, millwork, cabinetry, and more. All manufactured in the USA from New York and Oregon — in a way that's healthy for customers, employees, and the environment. Pioneer Millworks is FSC certified and Green America approved. All of their products are LEED point eligible.