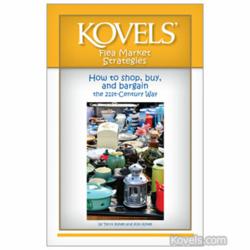 Kovels' list of recommended smartphone apps is the first and most useful of its kind. Using apps helps find things quickly so I can get the most out of my market day. -Marcia Goldberg, Editor, Kovels on Antiques and Collectibles
Cleveland, OH (PRWEB) June 18, 2013
Antiques experts Terry Kovel and Kim Kovel have just published a new booklet, "Flea Market Strategies: How to Shop, Buy and Bargain the 21st-Century Way." To collectors, summer weekends mean flea markets and the Kovels have navigated flea markets for decades. Kovels' "Flea Market Strategies" booklet offers an updated take on what to wear, what supplies to bring along and how to use smartphones for smarter shopping.
A supplement that lists latest smartphone apps and websites to help the collector shop, share and ship is an added bonus. Bargain shoppers and avid collectors alike will benefit from apps that help find flea markets, food, shipping locations, public bathrooms—even your parked car—as well as magnify, measure, price and evaluate potential purchases and organize a "favorites" lists. Marcia Goldberg, editor of "Kovels on Antiques and Collectibles" monthly newsletter, says: "I love to spend a few hours at local flea markets when I travel. Kovels' list of recommended smartphone apps is the first and most useful of its kind. Using apps helps find things quickly so I can get the most out of my market day."
Whether wandering through a huge extravaganza that pulls in dealers from across the country or a small local show with just a few tables, this informational 20-page booklet has tips on spotting fakes, advice about paying for purchases and shipping suggestions. Learn from the best. "Flea Market Strategies: How to Shop, Buy and Bargain the 21st-Century Way" is available only in the online store at Kovels.com.
Terry Kovel, well-known columnist and author, gives information and advice on collecting. She will discuss antiques and collectibles topics with accredited media. Photographs are available. Contact pr(at)kovels(dot)com.
About Kovels.com
Kovels.com, created by Terry Kovel and Kim Kovel, provides collectors and researchers with up-to-date and accurate information on antiques and collectibles. Kovels' Antiques was founded in 1953 by Terry Kovel and her late husband, Ralph. Since then, Kovels' Antiques has continually published some of America's most popular books and articles about antiques, including the best-selling "Kovels' Antiques and Collectibles Price Guide," now in its 45th edition. The Kovels' website, online since 1998, and free weekly email, "Kovels Komments," give readers a bird's-eye view of the market through up-to-date news, auction reports, free online Price Guide, a Marks Dictionary, readers' questions with Kovels' answers and much more.
Contact Information:
Liz Lillis
216.752.2252
Pr(at)kovels(dot)com