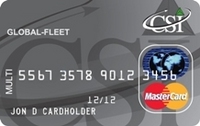 We have the tools and a professional team in place ready to help our clients manage this volatile expense.
Bonita Springs, FL (Vocus) March 9, 2010
According to the latest news on gas prices, fuel costs are expected to rise above $3.00 per gallon by summer 2010. CSI Enterprises Inc. believes businesses must act now in order to manage their fleet expenses and minimize the impact to their bottom line. Successful business management means maximizing cost saving tools to achieve a competitive edge. CSI Fleet Fuel Card has all of the tools necessary to track, manage, report and control all fleet fuel expenses.
"As the economy begins to rebound, companies will begin to increase their activity to meet increasing demands," explains CSI CEO and President Keith Stone. "We have the tools and a professional team in place ready to help our clients manage this volatile expense."
The CSI Fleet Fuel Card is the ultimate tool for businesses to comprehensively manage and control fuel and automotive maintenance expenses. CSI's industry leading fleet card supplies the perfect suite of tools: "Real-time" Online Access and Account Management, Fuel Savings Tools, Built in Discount Locations, Security – PIN & Mileage Prompting right at the pump, and acceptance at nearly every retail fuel station and truck stop/travel center in the U.S. Many of the largest national fleets use this card platform to manage, control expenses, and SAVE.
"What we can offer is very real solutions that help businesses compete and positively affect their bottom line," said Stone.
To learn more about the CSI Fleet Fuel Card, visit http://www.csifleetfuelcard.com.
About CSI Enterprises, Inc.
CSI Enterprises Inc. provides a specific line of controlled financial payment products including business fleet fueling/maintenance payment cards, a corporate virtual payment MasterCard and card solutions for corporate purchasing, travel and entertainment spending. Today CSI and its products operate in all fifty states including Canada, Mexico and the Caribbean with operating subsidiaries involved in municipal tax reclamation, venture capital and real estate development activities nationwide. Since 1988, CSI Enterprises Inc. was the first and largest U.S. organization to have a successful corporate asset management and payment network throughout the U.S. and Latin America.
# # #