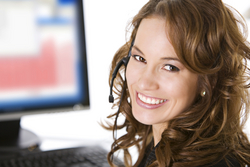 Market research indicated that there was a need for technology to reduce risk related to unsafe driving practices
Edmonton, AB (PRWEB) October 8, 2009
Safefreight Technology today introduced a new fleet management software and system that focuses on improving traffic safety and reducing accident risk.
The new SmartFleet GPS fleet management system also incorporates a vehicle mounted GPS tracking device with a unique accelerometer that accurately measures g-force and communicates fleet safety alerts to fleet managers when unsafe driving events occur. An optional, in-cab mounted mentoring device can also be incorporated to let drivers know when they've exceeded safe driving thresholds and scores their driving skill level at the end of each trip.
"Market research indicated that there was a need for technology to reduce risk related to unsafe driving practices," says Safefreight CEO Curtis Serna. "We are pleased to offer this technology under exclusive license, which was developed in consultation with the Israeli Defence Forces and proven by Fortune 500 companies in Europe. It is unique to North America," added Serna.
SmartFleet® Manager is a fleet management software that offers real time visibility of fleet operations through a Safefreight hosted internet application. Critical location and condition information is gathered through a vehicle-mounted device, communicated wirelessly, and served to Safefreight's customers through this vehicle to-internet application. Information can be accessed on-demand from any internet enabled computer or device - any time, from anywhere in the world.
Through the implementation of this new driver safety and GPS fleetmanagement system, businesses can also expect to:

Decrease number of accidents
Reduce fuel consumption
Cut vehicle downtime
Lengthen the lifetime of tires, brakes sets, clutches and gears
In conjunction with Drive Safely Week, Safefreight is offering a free, one year subscription to Location Based Services fleet management software. Drive Safely Work Week (DSWW) is the Network of Employers for Traffic Safety annual workplace safety campaign. NETS is a non-profit partnership of socially responsible public and private organizations dedicated exclusively to traffic safety in the workplace.
About Safefreight
Founded in 1998, Safefreight is the developer and provider of a fleet management software and system. This GPS fleet management system comprises a GPS tracking device with asset-to-Internet capability, wireless communications and a web based fleet management software. SmartFleet provides the online tools to drive business performance by enhancing the safety, security and productivity of fleet assets and the workforce operating them.
###