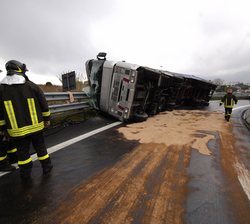 Safefreight's technology is unique in Canada and offers our customers the most comprehensive solution on the market to mitigate driver risk and optimize vehicle performance
Edmonton, Alberta (PRWEB) September 18, 2009
Safefreight Technology, a fleet safety and GPS fleet tracking provider, is pleased to announce its strategic partnership with Rogers Communications to market SmartFleet, Safefreight's GPS driver safety and fleet management system.
"Safefreight's technology is unique in Canada and offers our customers the most comprehensive solution on the market to mitigate driver risk and optimize vehicle performance," said Steve Roberts, Rogers' Vice President. "We look forward to working with the Safefreight team to provide our current and future customers with these innovative tools to enhance the safety and management of their fleet operations," added Roberts.
"We are extremely excited to be working with Canada's premier provider of wireless products and services," said Curtis Serna, Safefreight's Chief Executive Officer. "Rogers' recent expansion of network coverage in Alberta in combination with our fleet safety technology offers companies in safety focused industries - like the energy sector - a cost-effective solution to enhance safety in the field."
SmartFleet is a telematics solution that incorporates a "smart" vehicle mounted device, asset-to-internet capability, wireless communications and web-based fleet management software. It helps fleet managers measure and manage the company's driving culture. In addition to providing real-time risk alerts, SmartFleet provides a forensic trail and makes it easier for fleet owners to substantiate warranty claims and more effectively manage fleet service plans. ROI on the solution is usually measured in months, depending on the number of devices deployed and the metrics being monitored.
SmartFleet empowers fleet managers with actionable data to:

Decrease number of accidents by up to 70%
Cut vehicle downtime by up to 50%
Reduce fuel consumption by up to 35%
Lengthen the lifetime of tires, brakes, clutches and gears
Enhance workforce and equipment productivity
Improve customer service through timely reporting of asset location
Reduce carbon emissions
Reduce risk of theft and expedite stolen vehicle recovery
Secure cargo assets (monitoring tampering and temperature)
Manage data in the field (including real time data capture)
Safefreight and Rogers are offering incented pricing of devices and software subscriptions, exclusively through the Rogers sales channel. Rogers' customers get a free, one year software subscription to Location Based Services. Advanced and Premium software subscriptions are also available at discounted pricing through the Rogers promotion.
About Safefreight Technology
Founded in 1998, Safefreight is the developer and provider of a GPS fleet management system - SmartFleet. This vehicle tracking and management technology comprises a GPS tracking device with asset-to-Internet capability, wireless communications and a web based fleet management software. SmartFleet provides the online tools to drive business performance by enhancing the safety, security and productivity of mobile assets and the workforce operating them.
About Rogers Communications
Rogers Wireless provides wireless voice and data communications services across Canada to more than 8.2 million customers under both the Rogers Wireless and Fido brands. Proven to operate Canada's most reliable wireless voice and data communications network, Rogers Wireless is Canada's largest wireless provider and the only carrier operating on the global standard GSM and highly advanced HSPA technology platforms. As well as providing seamless roaming in more than 200 countries around the world with its GSM based services, Rogers Wireless also provides wireless broadband services across Canada utilizing its 2.5GHz fixed wireless spectrum. The company is a subsidiary of Rogers Communications Inc. (TSX: RCI; NYSE: RCI), a diversified Canadian communications and media company. For further information, please visit http://www.rogers.com.
###