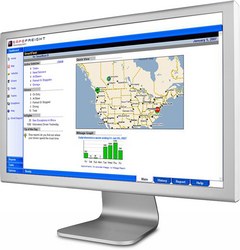 Our collaborative approach to custom solutions is founded on building long-term, sustainable partnerships with clients
Odessa, TX; Edmonton, AB (PRWEB) September 17, 2008
Safefreight Technology today announced that Light Tower Rentals (LTR), a Texas based oilfield equipment rental firm, has commenced the deployment of Safefreight's SmartFleet® GPS fleet management system for their fleet of over 100 vehicles.
SmartFleet® provides Light Tower Rentals the ability to monitor the safety and security of their drivers and fleet assets in real time. SmartFleet® Manager - Safefreight's fleet management software will also provide LTR with the ability to generate reports to enable LTR to analyze vehicle metrics. Data from reports can be used to enhance the management of their fleet and workforce - ultimately to improve customer service and verification of hours worked by employees.
"Our previous provider didn't have the range of functionality that Safefreight offered," said Keith Muncy, Chief Financial Officer of Light Tower Rentals. "We evaluated other vendors, but we chose Safefreight because of their ability to customize a solution that met our needs," added Muncy.
In addition to safety and customer service benefits, SmartFleet can also track other key performance indicators such as engine hours, mileage and more. Milestone and threshold data are communicated through the web and accessed online by LTR's fleet manager so that he can take immediate action to avoid potential problems and failures, and schedule maintenance only when it's required. Productivity reports that summarize important asset specific information will provide the set of tools to ensure that LTR has the information to support the efficient management of their mobile and human resources.
"Our collaborative approach to custom solutions is founded on building long-term, sustainable partnerships with clients," said Curtis Serna, CEO of Safefreight. "By leveraging the years of expertise in Safefreight's professional services team, our goal is to provide customers like LTR cost-effective solutions that bring immediate ROI," added Serna.
Light Tower Rentals was established in 1994 and rents light towers, generators, air compressors, mobile housing, frac tanks, flowback tanks, downhole pipe and tools and other oilfield equipment 24 hours a day 7 days a week. The company is headquartered in Odessa and has operations in the oilfields of Texas, Louisiana, New Mexico and Arkansas.
Founded in 1998, Safefreight is a developer and provider of patented GPS fleet management technology. Through its SmartFleet® system, Safefreight provides full vehicle visibility through telematic technology that comprises a web-based GPS vehicle tracking device, asset-to-Internet software and cell or satellite communications. SmartFleet® provides situational awareness of vehicles and the workforce operating them so that managers have the tools to optimize their fleet resources, customer service and safety. Safefreight has operations in Edmonton, Calgary, Toronto, Arlington and Houston.
###