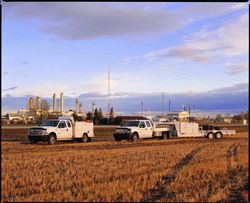 We appreciate the opportunity to help them achieve their fleet business objectives
Edmonton, AB (PRWEB) February 11, 2008
Safefreight Technology today announced that Pamco Jiro Service, a division of Enerflex Systems Income Fund, an international energy service company, has selected Safefreight as their provider for GPS fleet management for 150 vehicles in their fleet.
SmartFleet® Manager - Safefreight's fleet management software, will provide Pamco Jiro the ability to poll each vehicle on demand, or alert key personnel on exact vehicle location for employee safety as well as ensure their fleet is operated with public safety in the forefront while servicing their customers' needs. The software is also capable of generating reports that enables Enerflex to analyze vehicle metrics so that they can strengthen the management of their fleet and workforce - ultimately to enhance customer service.
"We are excited about implementing SmartFleet and working with the Safefreight team," said Dave Tkachuk, General Service Manager of Pamco Jiro Service. "Throughout our vendor evaluation process, it became clear that Safefreight not only offered a superior system, they had the people and processes in place that supported a dedicated approach to our business," added Tkachuk.
SmartFleet® also provides information related to key performance indicators such as idling. Threshold data is communicated to the customer through AVL software so that they can take immediate action to manage excessive idling that will help to reduce fuel consumption, engine wear and carbon emissions.
"Safefreight is dedicated to bringing value to Pamco Jiro Service by providing them with a uniquely versatile telematic system and our collaborative customer approach to help them fully optimize their fleet assets," said Curtis Serna, CEO of Safefreight. "We appreciate the opportunity to help them achieve their fleet business objectives," added Serna.
About Enerflex
Enerflex Systems Income Fund is a leading supplier of products and services to the global oil and gas production industry. Their core expertise lies between the wellhead and the pipeline. Enerflex provides natural gas compression, power generation and process equipment for sale, rent or lease, hydrocarbon production and processing facilities, electrical, instrumentation and controls services and a comprehensive package of field maintenance and contracting capabilities. Enerflex has approximately 2,650 employees with operations in Canada, Australia, the Netherlands, the United States, Germany, Pakistan, Egypt, Indonesia and Malaysia.
About Safefreight
Founded in 1998, Safefreight is a developer and provider of a GPS tracking system for fleets in a range of industries including energy, transportatation, retail, hazmat and food manufacturing. Through SmartFleet®, Safefreight provides full fleet visibility and security through telematic technology that integrates an onboard GPS device, vehicle to Internet software and cell or satellite communications. This technology provides situational awareness of vehicles and the workforce operating them so that managers have the tools to optimize their fleet resources, customer service and safety. Safefreight has operations in Edmonton, Portland, Houston, St. Louis and Philadelphia.
###