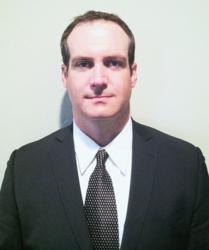 Thomas brings to Inilex a rare combination of talent that will help us manage our recent growth, as well as drive new opportunities
Phoenix, AZ (PRWEB) October 17, 2012
Inilex, the industry-leading provider of telemetry solutions for vehicle theft recovery, is expanding its elite management team with the addition of Thomas Gordy as its new executive vice president. In addition to overseeing Inilex's day-to-day operations, Gordy will lead the design and deployment of Inilex's forthcoming solutions for fleet management.
Gordy brings to Inilex more than 11 years of GPS expertise from working with some of the nation's largest telemetry and GPS technology companies, including Trimble Navigation and Novariant. He was most recently a senior director with Trimble Navigation.
"Thomas brings to Inilex a rare combination of talent that will help us manage our recent growth, as well as drive new opportunities," said Inilex CEO Michael Maledon. "Our core SkyLINK product has experienced explosive growth, and we see a big opportunity in leveraging that success in the broader fleet management market. With Thomas' record of success and leadership abilities, we're well positioned to scale the company while maintaining our hallmark best-in-class customer experience."
One of Gordy's initial tasks will be to lead the design of a new suite of solutions for Inilex expected to be launched by year-end. "I'm focused on making Inilex the most competitive, innovative and customer-oriented provider in the industry," said Gordy. "The team here at Inilex has already delivered the best auto theft-recovery product to the industry, and now we'll expand our product line and enhance our operations so we are truly unbeatable. I couldn't have asked for a better opportunity."
Inc. Magazine recently selected Inilex as one of the fastest-growing companies in America, and the company was awarded a top honor for its product innovation by Connected World. Its vehicle theft-recovery and monitoring solutions – including SkyLINK, SkyLINK PROTECT and InilexGPS – have grown significantly and earned a reputation as core product offerings at auto dealerships nationwide.
About Inilex
Inilex®, the industry-leading provider of intelligent telemetry solutions, combines the power of Global Positioning Systems (GPS) with the flexibility of a best-in-class wireless messaging system to develop telemetry solutions for businesses and consumers alike. Inilex's GPS products and applications allow clients to remotely monitor, control and track important assets such as vehicles via cell phones or the Internet. With the company's specialized expertise and flexible development platform, the Inilex applications are affordable, accurate and reliable. Inilex is online at http://www.inilex.com.
###