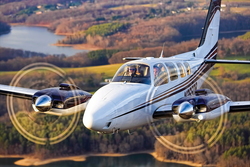 No matter where your piston aircraft is based, Fleet's CMP can save you money and time by avoiding foreseeable maintenance problems and potentially lowering your insurance premiums.
White Plains, NY (PRWEB) February 8, 2011
Among aircraft owners, it is common knowledge that aircraft records make up 25% of the value of a plane at resale, yet until now the most advanced systems for record keeping have only been available to owners of jets and turboprops. As part of its comprehensive maintenance program, Fleet Aviation has become the first provider of a Computerized Maintenance Tracking Program specifically for piston aircraft.
Previously, small aircraft owners were left to personally track the maintenance of their aircraft through the tedious coordinating of reams of papers and binders of logs – documentation that is crucial to confirming the condition of a plane. Missing data affects resale value, can impact insurance rates, and can create troublesome questions regarding the safety of the aircraft.
Now, owners who join Fleet's program will have all of their aircraft records centrally organized. Easy remote access enables detailed tracking and transcribing of aircraft management and maintenance, eliminating the insecurity of manual pen-and-paper tracking and increasing confidence in safety.
"We utilize the same system we employ for our FAA regulated Part 135 charter operations which requires incredibly thorough and exact record-keeping," Fleet Aviation's Director of Maintenance, Chris Szabo, elaborates. "The comprehensive tracking we provide allows us to advise our CMP clients of any safety concerns such as upcoming maintenance events, mandatory inspections, optional service bulletins, and Airworthiness Directives. A quick login prior to any flight gives a real-time snapshot of flight-worthiness and impending maintenance timelines – something piston aircraft owners have never had the option of before."
Fleet's CMP is part of the company's larger Aircraft Services division that includes Aircraft Management, Database Management, and Piston Aircraft Maintenance performed out of their hangar space at Westchester County Airport (HPN). Fleet Aviation is a Limited Cirrus Service Center offering airframe and powerplant services and inspections for all piston engine aircraft, with a specialization in TCM and Lycoming engine maintenance. Additionally, Fleet offers Aircraft on Ground (AOG) and on-call emergency aircraft maintenance services around the clock.
Fleet CEO Doug Brennan notes, "One of the great things about our CMP is that you don't need to be on-site to use it. No matter where you are in the country, we can save you money and time by avoiding foreseeable maintenance problems and potentially lowering your insurance premiums. Moreover, you will increase the value of your aircraft when it comes time to resell it."
About Fleet Aviation
Fleet Aviation provides businesses and families the ability to affordably fly on-demand throughout the Northeast and Mid-Atlantic. Founded in 2005 and headquartered at the Westchester County Airport (HPN) in New York, the company specializes in regional charter, aircraft management, aircraft maintenance and executive pilots. Fleet increases the enjoyment of private aviation, whether you are an aircraft owner or simply a passenger. No lines, no connections, no crowds, no breaking the bank. People who fly smart, fly Fleet. More information can be found at http://www.flyfleet.com.
# # #