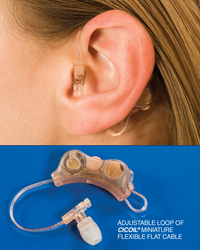 the world's first disposable hearing aid
(Vocus) December 30, 2008
Valencia, CA -- The Songbird flexfit hearing aid is being called "the world's first disposable hearing aid", and is designed as an "over-the-counter" solution for people with moderate hearing loss, needing part-time hearing assistance. A one-model-fits-all was essential to achieving an affordable price point. Making this possible was a clever design featuring a miniature flexible flat cable from Cicoil®.
The key to a "fits-all" design is the highly flexible, miniature Cicoil flat cable running from the behind-the-ear body to the microspeaker earpiece, which is user-adjustable for ideal length and fit. Cicoil's silicone-jacketed, high flex flat cable was selected for the Songbird hearing aid because of its unique attributes. With the earpiece being regularly looped from behind the ear to a comfortable placement inside the ear, extreme flexibility was a primary requirement. Cicoil's 2-conductor cable utilizes finely-braided copper wire, with base stranding of just 60 AWG, creating the high flexibility needed. While flexible, the miniature Cicoil cable is strong enough to mechanically hold the earpiece, and retains the tensile strength not break while being pulled by the user to adjust the cable length and the position the earpiece.
The second key attribute for this application was Cicoil's exclusive crystal clear silicone jacketing. Soft and supple, silicone is also water and sweat resistant, and is completely inert, making it ideal for use with a hearing aid device in constant contact with human skin and hair. The combination of copper wires, a translucent silicone jacket, and a thin form enable Cicoil's miniature flex cable to blend naturally with a wide range of skin tones.
Cicoil flexible flat cables, with silicone jacketing are suitable for a wide range of health and medical applications, and may be manufactured in virtually any configuration, with conductor sizes ranging from 4 to 44 AWG.
Cicoil has been a leader in designing and manufacturing high performance cable assemblies for over fifty years. The company's unique silicon coated flat cables provide high flexibility, extremely long life, and they can withstand temperature extremes from -65 degrees to +260 degrees Celsius. Cicoil's cables are used in thousands of demanding applications, including aircraft fuel control cells, semiconductor automation, and the Space Shuttle. Cicoil designs and manufactures its cable and cable assemblies in an automated facility in Valencia, California. Cicoil's quality assurance system is certified to the ISO 9001 (AS9100) standard. Further information, application assistance, and sales inquiries can also be obtained by visiting http://www.cicoil.com, or by calling 661-295-1295.
# # #