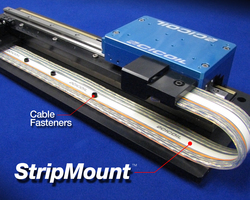 Valencia, CA (Vocus) June 30, 2010
Cicoil, the leader in high performance, flexible flat cable, is pleased to announce that its innovative StripMount™ cable mounting feature option has been awarded U.S. Patent No. 7,678,998. Cicoil's StripMount™ design makes it quick and easy to mount cables to any surface without the need for cable carriers, conduit, or other cable management hardware. Listed as inventors are Howard Lind and John Palahnuk.
StripMount™ is a fiberglass-reinforced ribbon that customers can add to any Cicoil flat cable. It is encapsulated in Cicoil's exclusive clear silicone jacketing, and it provides more than 250 lbs. holding force. Customers simply add the StripMount™ option as they specify the wire conductors that make up their cable. Using StripMount™ equipped cables eliminates the need for bulky, time-consuming cable carrier, conduit and cable tie hardware, greatly simplifying cable design and installation. Cables with StripMount™ may be installed using screws, rivets, or with virtually any fastener available, making it quick and easy to securely attach your flat cable to any surface. In addition, multiple Cicoil flat cables can easily be stacked and attached to any surface.
The StripMount option is available with most cables from Cicoil's online catalog, or with any custom flat cable. For videos demonstrating how StripMount works, or to download the StripMount™ data sheet, visit the company's web site at Cicoil.com. Further information, application assistance, and sales inquiries can also be obtained by calling 661-295-1295.
Cicoil has been a leader in designing and manufacturing high performance cable assemblies for over fifty years. The company's unique silicon coated flat cables provide high flexibility, extremely long life, and they can withstand temperature extremes from -65 degrees to +260 degrees Celsius. Cicoil's cables are used in thousands of demanding applications; including aircraft fuel control cells, semiconductor automation, and the Space Shuttle. Cicoil designs and manufactures its cable and cable assemblies in an automated facility in Valencia, California. Cicoil's quality assurance system is certified to the ISO 9001 (AS9100) standard.
###