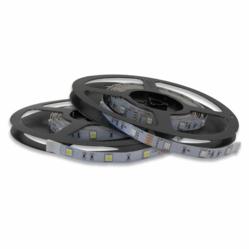 The fact that it is so small and flexible, it allows users to integrate it into almost any application
Fremont, OH (PRWEB) September 18, 2012
Light Craft Manufacturing is proud to announce the latest addition to their already expansive line of LED products. The flexible tape lighting product is the latest in a series of LED display lighting options that offers customers a great way to back light graphics or small, narrow light boxes.
"The fact that it is so small and flexible, it allows users to integrate it into almost any application," said the Director of Sales & Marketing for Light Craft Manufacturing, Brandon Wright. "We've made the product simple and easy to use with connector accessories to link sections of the tape together."
The tape will come in a variety of lengths (2', 4', 6', 8', 10'), and can be cut every 4" on those sections to make custom lengths. The product offers 2.25-watts per foot, or 145 Lumens per foot. There is also an adhesive back that will allow customers to stick it to any desired surface. Customers will have a few different color options to choose from when shopping for the Flexible LED tape light.
Light Craft announced that the tape will come in two color temperatures of white: a neutral white (4300K) and a warm white (3000K). The neutral white will be a pure white color, and warm white will be a white with a warm "yellowish" tint to it. There will also be a RGB option, which will allow customers to control colors and give a large variety of color variations to choose from. With the RGB version there are also fade and jump options that allow colors to be faded in and out.
In addition to the flexible lighting tape, Light Craft also provides products like LED lamps, stem lights, recessed lights, power supplies, mounting brackets, track lighting and accessories. LED lights reduce energy consumption and receive a higher quality light output. Light Craft will continue to create energy efficient lighting to better serve the needs of their customers.
About Light Craft:
Light Craft Manufacturing, Inc. is a family owned and operated business that has been dedicated to providing the tradeshow and exhibit industry with quality, reliable lighting since 1987. Light Craft offers a wide selection of stock lighting solutions that include stem lighting, back lighting, track lighting, and recessed lighting. Light Craft also carries LED solutions to help customers become environmentally friendly exhibitors. Along with stock solutions, Light Craft continues to pride itself on custom capabilities that will provide the perfect lighting solution for any unique exhibit design. As a company, they are able to provide all of these solutions at highly competitive pricing and the fastest turnaround time in the industry, as many orders ship the same day they are received. Light Craft's commitment to building trustworthy and outstanding customer service relationships is second to none in the industry. For more information, please visit http://www.lightcraftmfg.com or call (800)772-3152.