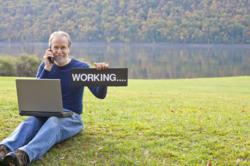 The ultimate goal of any flexible workplace strategy is to help leaders attract, retain, and engage top talent.
Fort Lauderdale, FL (PRWEB) April 03, 2013
Vitesse Consulting is pleased to announce a webinar that will take a stand on one of the most hotly debated business news stories of 2013's first quarter - Yahoo's decision to end work from home arrangements. The Flexible Workplace: How Leaders Can Retain the Keys to Success and Avoid Giving Away the Keys to the Kingdom will take place on April 24, 2013 at 11am EST. Registration is available at http://bit.ly/10qM55z.
The webinar will be led by Fort Lauderdale-based management consultant and executive coach, Shani Magosky. Having worked in numerous industries, for venerable institutions and unknown start-ups, in a range of economic environments from bubble to recession, and in revenue-producing, advisory, and senior managerial roles, Shani was also the COO of an entirely virtual marketing company for five years.
"Working from home is not a one size fits all panacea, but neither is Yahoo's directive to eliminate them all," says Magosky. "In order to stay relevant, organizations must be flexible and go beyond window dressing to create a truly functional workplace and adaptable culture where realistic work patterns meet the needs of employees and employers. The ultimate goal of any flexible workplace strategy is to help leaders attract, retain, and engage top talent."
Participants will learn about current trends in flexible/virtual work arrangements and the 15 "Cs for Success" for the organization, teams, and individual contributors operating in this context. In addition, Shani will share a proprietary tool that Vitesse has developed for more efficient email communication among teams.
Vitesse Consulting is on a mission to help corporations restore their place as responsible and respected citizens of the world. And that starts with people and culture, even if it means one at a time. Vitesse believes it's time for a paradigm shift in how we manage our lives and developed a modern approach to creating balance called Life-Work Infusion™ that guides all of the work they do with clients on a variety of personal and professional effectiveness initiatives.