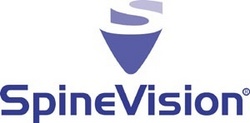 Thanks to the PediGuard MIS sleeves I can use the device in percutaneous or mini open procedures. The number of X-rays and C-Arm handling can be significantly decreased, saving us a considerable amount of time and reducing radiation exposure. I am now using PediGuard® for all my MIS cases
SAN FRANCISCO and PARIS (PRWEB) May 23, 2008
These two products are being introduced six months after launch of the Company's FlexPLUS™(a) system and 2.5mm-diameter PediGuard® at EuroSpine 2007.
With the possibility to perform hybrid constructs combining up to 3-level fusion and 2-level dynamic stabilization, the 2 Level FlexPLUS™ Rod will give even more versatility to the FlexPLUS™ system, which already offered selective options - from fusion to dynamic stabilization - in a single, posterior lumbar pedicle screw system. The new 2 Level FlexPLUS™ Rod can be used with the screws and instruments of the FlexPLUS™ system, which has now been used in close to 500 surgeries, with no adverse effects reported. The system can be used in combination with PediGuard® for optimal pedicle screw placement.
PediGuard® is the only wireless handheld pedicle preparation device to detect inadvertent breach in the pedicle in real time, thus addressing the well-documented challenge of placing vertebral screws safely within the spine. "The positioning of pedicle screws without fluororoscopy (based on tactile feeling) exposes the patient to risks of misplacement and complications. Technologies such as neuronavigation reduce this risk but are time-consuming and expensive. Systematic use of per-operative fluoroscopic screw positioning control during placement exposes patients and surgeons to high doses of radiation. The use of PediGuard® helps me to accurately place my screws while significantly reducing the drawbacks of these techniques." says Alphonse Lubansu, MD, Head of Spinal Surgery, Dept. of Neurosurgery, ERASME Hospital, Université Libre de Bruxelles, Brussels, Belgium.
The current trend towards more and more MIS (minimally invasive surgeries) procedures has led SpineVision to develop PediGuard® MIS Sleeves, so that spine surgeons can now use PediGuard® also in their MIS procedures and benefit from the significant reduction of radiation exposure and surgery time potentially offered by the device. "Thanks to the PediGuard MIS sleeves I can use the device in percutaneous or mini open procedures. The number of X-rays and C-Arm handling can be significantly decreased, saving us a considerable amount of time and reducing radiation exposure. I am now using PediGuard® for all my MIS cases" says Lubansu.
Fluoroscopy is an imaging technique commonly used by physicians to obtain intra-operative images of the internal structures of a patient and monitor pedicle screw placement in spine surgeries, through the use of a fluoroscope (C-Arm). Fluoroscopy involves the use of X-rays, a form of ionizing radiation. Both patients and surgeons are exposed to high doses of radiation, cumulative for spine surgeons, who may perform hundreds of cases per year. Surgeons who use PediGuard® may reduce radiation exposure by approximately 30 percent.
About SpineVision
SpineVision (http://www.spinevision.com) is an innovative medical device company focused exclusively on developing and marketing implants and instrumentation for application in spinal surgery.
(a) Parts of the FlexPLUS™ system are not available for sale in the USA