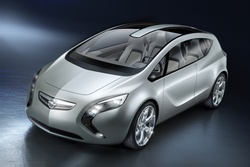 Commutes to major city-centers in Europe will do nothing but grow more challenging in the future,
RUSSELSHEIM & FRANKFURT, Germany (PRWEB) September 10, 2007
The Opel Flextreme uses GM's E-Flex architecture and represents the company's strategy to develop vehicles that reduce CO2 emissions and the automobile's dependency on oil, thereby supporting global diversification of the energy mix. This also includes using the mains electricity network as an energy source. At the concept's heart is an electric motor that takes its power from a large lithium-ion battery. The difference to conventional hybrid propulsion systems is that the E-Flex system's 1.3-liter diesel engine is not connected to the wheels. It is purely on board to produce additional electricity to charge the battery and provide a greater operating range. It always operates in the optimum rpm range and its cylinder pressure-based closed loop technology controls the combustion process, further reducing the vehicle's emissions.
With a fully charged battery, the Flextreme has an operating range of 55 kilometers when running purely on electrical power, and only requires a standard 220 V mains socket to recharge the battery in around three hours. Commuters in Europe have an average commute of less than 50 kilometers, so if they were to charge the car up overnight and during the day, they could drive over 100 km each day without producing any CO2 emissions. "Commutes to major city-centers in Europe will do nothing but grow more challenging in the future, "," says Robert A. Lutz, GM Vice Chairman, Global Product Development, "and we see E-Flex vehicles as an elegant solution for commuters." Bob Lutz sees the Opel Flextreme Concept vehicle as "a natural for the Opel brand in Europe, where it has long been known for technological innovation and strong design."
System already integrated into product development
The E-Flex system is not just a vision of GM - it is already fully integrated into product development. It enables different propulsion systems to be fitted into one uniform chassis with electric propulsion. Fuel cells or bioethanol/diesel engines can also be fitted as secondary propulsion units depending on what energy source is readily available in the driver's area.
The timetable for series production is closely tied to the development of key technologies, such as high-performance lithium-ion batteries. E-Flex Chief Engineer Frank Weber is confident about its further development: "We fully intend to bring this technology to market," says Weber. "we're increasingly confident that our strategic battery partners will be able to deliver a production-ready battery in the near future."
Segways in trunk add extra mobility option
The Flextreme takes the new design language debuted in the GTC Coupe at the Geneva Motor Show several steps further. With the forward-opening rear doors (FlexDoor(R)), a large transparent roof and two tailgate doors that open from the side and swing upwards, the concept car continues Opel's tradition of particularly flexible and practical body concepts with attractive designs. This also includes the innovative FlexLoad(R) additional underfloor luggage compartment.
The big surprise for the IAA are two high-tech electric personal transporters, ingeniously packaged below the cargo floor. They can be used in areas that cars cannot enter, thereby adding an extra mobility option. The electric scooters provide up to 38 km
(23 miles) of clean mobility.
Text and photos can be downloaded from the Internet at http://media.opel.com.
Opel Flextreme Concept Vehicle: Technical Data
Drive system
Chassis/Suspension
Brakes
Wheels/Tires
Dimensions
Exterior
Interior