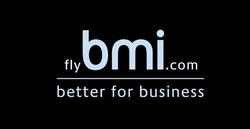 (PRWeb UK) April 22, 2010
bmi plans a phased reintroduction of its international and domestic flights to and from London Heathrow, following the reopening of UK airspace by the aviation authorities last night. Safety is, and continues to be, bmi's number one priority and the planned schedule for Wednesday 21 April may be subject to change throughout the day so customers are advised to check their individual flight status on our website, flybmi, before leaving for the airport.
bmi plans to operate flights to London Heathrow and between all its UK and Ireland destinations (Aberdeen, Belfast, Dublin, Edinburgh, Glasgow and Manchester) to help UK customers and businesses get back to business as usual. A reduced schedule will operate on Wednesday 21 April, while additional aircraft are sent to international destinations to rescue stranded customers.
bmi regional plans to operate regional services between Edinburgh-Aberdeen, Brussels, Copenhagen, Leeds Bradford and Manchester; as well as services between Aberdeen-Birmingham, Manchester and Norwich; and Brussels-East Midlands and Leeds Bradford; and Glasgow-Leeds.
Internationally bmi plans to operate flights between London Heathrow and Addis Ababa, Amman, Baku, Beirut, Berlin, Cairo, Damascus, Freetown, Hannover, Jeddah, Moscow, Riyadh, Tbilisi, Tehran, Vienna and Yerevan. While some flights will operate outside the usual schedule, bmi hopes to operate 75% of its international flights to normal schedule.
Due to the large number of stranded customers, customers should only travel to the airport if they have a confirmed flight booking. Customers whose flights were cancelled in the last six days should contact bmi's call centre to rebook their flights on 0844 8484 888 (UK) or (01) 4073036 (Ireland). Customers whose flights were cancelled are entitled to a full refund or can rebook within three weeks of original departure date, for travel within two months. Normal refund conditions apply.
Finally bmi, British Midland International, would like to thank all its customers for their patience over the last six days and looks forward to welcoming them back onboard.
For further information contact bmi corporate communications on 01332 854687.
###