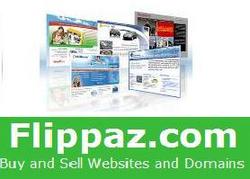 I want to promote website flipping in Asia, especially in my own country, in the Philippines, that is why I created Flippaz.com."
Haskell, NJ (PRWEB) September 2, 2010
Webpreneur and Web Flipper, Russel Gabiola, is proud to announce the release of Flippaz.com, a new website marketplace. Flippaz.com is a simple listing service that allows the easy buying and selling of websites and domains. According to Russel, "Flippaz is not an auction place. It's far too different in terms of design and function compared to Flippa. However, the concept of buying and selling is made easy. Interested buyers can contact the sellers directly. It offers no registration, absolutely no commission, auto-approval, RSS syndication, and cheap price of $9.99 for a 30-day listing. I am not imitating Flippa, but I am highly motivated by their success. I am aware that they are the biggest competitor, but it doesn't scare me. I think it is good that I recognized and chose Flippa to be the standard in terms of website flipping. They have been doing very well and I wish to reach the level where their company is right now."
Russel Gabiola has been flipping websites since 2006. Flippaz.com is her most recent website project for flipping. "Website flipping is when you a buy a website, improve it, and then sell it at a higher price. The secret to website flipping is to be a good researcher and to find the right buyer. I've already quit my full time job as a teacher and decided to focus on flipping instead. If you get lucky and if you know the ins and outs of this business, you can earn ... enough to quit your day job. You have to know which sites are worth the money. You have to wait for the best deal that you can get. Don't settle and try to know as much information as you can on the site. Currently, website flipping has become a success in USA, UK, and Europe. I want to promote flipping in Asia, especially in my own country, in the Philippines, that is why I created Flippaz.com."
Flippaz.com is currently being promoted through link building, PPC advertising, and online marketing. The company is also seeking sponsors and investors for the website in the amount of $10,000 for its continuous online marketing. If you have a website or domain that you've been wanting to sell or flip, please visit http://www.flippaz.com or email info@flippaz.com for questions.
###