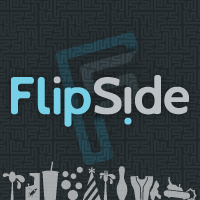 A 28-bowling-lane, five-dozen-arcade-game, car-bumping, billiard-ball-flying, foam-ball-gun-firing, laser-filled maze, restaurant on the edge of an alternate universe portal.
Gilbert, Arizona (PRWEB) February 13, 2013
FlipSide, a local bowling alley and family fun center, recently held its Grand Opening in Gilbert on February 9, 2013. Located on the South-East Corner of Val Vista and Queen Creek Road, FlipSide hosts 28 lanes of Qubica/AMF bowling, a two-story laser-tag arena, bumper cars, billiards, mini-bowling, a café, and more in one location.
The facility began its "soft launch" in January, while training its team of over 100 new employees. Its grand opening in February marked the first time it was advertised as open to the public. The business brings a new opportunity for Gilbert and Queen Creek residents to go bowling near home, and gives parents a chance to have fun with their families locally.
Owners Nathan Crane and Ryan Owens, both East Valley residents, were inspired to begin plans for FlipSide after realizing how few family-friendly entertainment options there were in their neighborhood. Both are fathers. Crane and Owens sought to create an environment where they could relax and feel comfortable bringing their kids. In keeping with the family-friendly atmosphere, FlipSide will not serve alcohol.
The new location welcomes curious visitors—including those who just want to check out the place. There is no cover charge or entry fee—guests are welcome to pay for individual attractions or activity packages of their choice.
Where: FlipSide
4874 S Val Vista Dr.
Gilbert, Arizona 85298
Hours: Sun–Thurs: 10am–10pm
Fri–Sat: 10am-12am
phone: 480-471-8444
website: http://www.exploreflipside.com