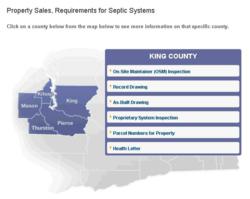 Puyallup, WA (PRWEB) November 09, 2012
Finding the necessary information about septic and the county requirements can be cumbersome and frustrating for agents. Real Estate agents need this information in order to sell the home or business. Thus, FloHawks launched a training program for real estate agents to inform them how and what they will need to meet the county requirements. FloHawks hosts a free onsite hour of training at the real estate brokerage's office. FloHawks will also provide turnkey paperwork to make the process much more efficient for the agents as well.
In addition on FloHawks' website, http://www.flohawks.com/county-report-resources.asp has all the links to research specific property and general information related to on-site systems for Thurston, Pierce, Kitsap, King and Mason counties.
FloHawks is a division of Northwest Cascade Inc., the home of Honey Bucket portable restrooms. Northwest Cascade's Residential and Commercial Construction divisions can help you with drain field repair; install new or repair septic and sewer systems or grease traps; and assist you on all types of underground utility projects. For more information about FloHawks' property sales resource center you can visit online http://www.flohawks.com/property-sales-requirements.asp. If you want more information about the real estate agent training program, call (888)360-3459.