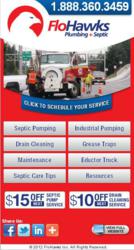 We wanted to make sure that our clients could find us whether they are on a laptop or an iPhone to schedule service" said JR Inman Vice President of FloHawks.
Puyallup, WA (PRWEB) April 20, 2012
Conducting Web searches from mobile devices is the fastest growing application on the Internet and FloHawks has created a state-of-the-art mobile site to provide its smart phone or tablet customers 24/7 FloHawks access.
In the Plumbing, Drain Cleaning, and Septic Tank business, its all about fast, expert service. With the new mobile site, customers may reach FloHawks instantly via their smart phone, tablet, or other Internet enabled hand held device.
Residential. Commercial. Industrial. No problem. FloHawks does it all. Whether its unclogging, repairing or installing pipes,septic tank pump outs, drainfields, installation, grease trap services or any other plumbing needs, contact FloHawks.
About FloHawks:
FloHawks is a division of Northwest Cascade Inc., the home of Honey Bucket portable restrooms. Northwest Cascade's Residential and Commercial Construction divisions can help you with drainfield repair; install new or repair septic and sewer systems or grease traps; and assist you on all types of underground utility projects. You may find FloHawks via a smart phone and tablet http://m.FloHawks.com, or call (888)360-3459