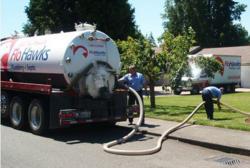 Puyallup, WA (PRWEB) November 15, 2012
Being on time for a plumbing company is one of the most critical factors in the area of customer service. More importantly, the proper routing of a service truck's day affects a business' bottom line. FloHawks, one of the region's largest septic and plumbing companies, has recently addressed this with their implementation of brand new GPS tracking software and units for their entire service fleet.
With the upgraded technology and software, each residential and commercial service truck is now displayed on dispatch computers within their Headquarter office in Puyallup, WA. It shows all existing and new orders as they are taken in real-time. This will improve service times and assist them to be more proficient in routing their days. In addition, it will maximize FloHawks' opportunities and to properly route emergency calls.
FloHawks is a division of Northwest Cascade Inc., the home of Honey Bucket portable restrooms. Northwest Cascade's Residential and Commercial Construction divisions can help you with drain field repair; install new or repair septic and sewer systems or grease traps; and assist you on all types of underground utility projects. For more information about FloHawks visit them online http://www.FloHawks.com or call (888)360-3459.