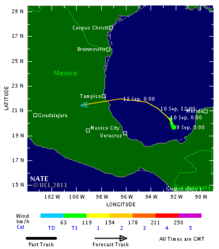 Once the damage is done is not the time to comparison shop. You want to act pre-emptively, having the number of a company you can trust who can be at your door right away once disaster has struck.
Atlanta, GA (PRWEB) September 10, 2011
Tropical Storm Nate is poised to become the third hurricane of the 2011 hurricane season sometime late Friday or early Saturday when winds reach a sustained speed of 74 mph or higher. Nate is expected to continue to gain strength over the weekend as it churns through the Gulf of Mexico on a course that may bring it into contact with the US mainland, resulting in water and flood damage.
Nate's impending arrival is unsettling, especially in the wake of Hurricane Irene, who worked her way up the East Coast and caused billions of dollars in damage from the Carolinas to Vermont, as well as Tropical Storm Lee, who struck a week later along the Gulf Coast and brought torrential rains and flooding to the southeast as well as farther north in Irene's old stomping ground.
Nate has already forced the evacuation of some oil platforms in the Gulf of Mexico following is pummeling of a platform in the Bay of Campeche. In anticipation of Nate turning into a hurricane, British Petroleum and Apache started the evacuation of its rig workers in the Gulf. Non-essential workers were ordered to leave BP's Atlantis, Holstein and Mad Dog platforms. Apache also evacuated its non-essential employees from its facilities located at the far western part of the Gulf, but the evacuation did not affect its production. This could affect the 27% of US oil output that is generated in the Gulf.
As of this writing (Friday morning), tropical storm warnings are in effect up and down the eastern coast line of Mexico, with Nate expected to produce 4 to 6 inches of rainfall as well as a storm surge which could top 3 feet above normal. The National Hurricane Center in Miami is monitoring the storm and will provide updates throughout the weekend.
The storm, currently 125 miles west of Campeche, Mexico, and moving toward the southeast, is expected to make a slow turn toward the north or north-northwest on Friday, the NHC said.
In addition, Tropical Storm Maria has also formed in the Atlantic basin, with sustained winds of 40 mph. A tropical storm watch was in effect for a host of islands: Antigua, Barbuda, Montserrat, Nevis, St. Kitts, St. Barthelemy, St. Marteen, Guadeloupe, Martinique, Dominica, St. Maartin, Saba and St. Eustatius.
Maria was centered about 490 miles east of the Windward Islands and was moving west at 21 mph.
Last month, the National Oceanic and Atmospheric Administration predicted an above-average storm season for the Atlantic and Caribbean. Slightly updating its May outlook, the agency called for 14 to 19 named tropical storms, up from a previous prediction of 14 to 18 storms.
None of this is exactly good news for those just now climbing out from beneath the damage wrought by Irene and Lee. The possibility of a one two punch, especially along the US southern Gulf Coast, is considerable, and flooding problems there may only be exacerbated by the effects of Nate.
Water Damage Local.com is a nationwide network of IICRC certified water damage providers. They encourage property owners to enlist a restoration provider now, so that there is someone to call after the storm has moved on.
WDL Content Director Billy Ritchie said "Once the damage is done is not the time to comparison shop. You want to act pre-emptively, having the number of a company you can trust who can be at your door right away once disaster has struck. Our providers offer training, experience, and a full range of flood damage services designed to get the water out, repair your home, and give you your life back as soon as possible."
Residents along the storm's path are advised to closely monitor radio and TV broadcasts to keep up with rapidly changing weather conditions.
# # #