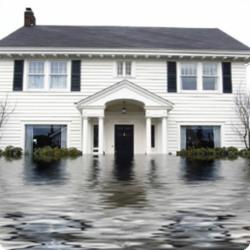 Residents are advised not to attempt driving or walking through any flooded streets. The water may hide the fact that the street is no longer intact.
Atlanta, GA (PRWEB) July 29, 2011
In the last few days, severe storms have dumped more than a foot of rain on parts of the Tri-States, flooding out streets and causing massive flood damage to residential and commercial structures.
Local authorities report that up to 15 inches of rain fell in Dubuque Iowa since Wednesday, prompting the local fire departments to call in all available help to handle the rapidly mounting emergency calls. Two multiple alarm fires even managed to break out during the severe weather. Dubuque County seemed to be receiving the major brunt of the severe weather.
While no injuries have been reported as of yet, several people have had to be rescued from washed out homes and stranded vehicles, with rushing water up to 2 and 3 feet deep in some areas. The Dubuque Regional Airport reported almost 11 inches of rain falling in a 24 hour period.
Rain was expected to diminish by late Thursday, but thunderstorms were still expected through the end of the day.
In nearby towns, cows could be seen floating downstream in rising flood waters, and firefighters rescued at least two people from stranded vehicles. The town of Cascade Iowa is preparing to sandbag, with predictions that the floodwaters will crest before sundown on Thursday.
Water Damage Local.com, a nationwide network of IICRC water restoration providers, warns people in flood ravaged areas to be careful when evacuating. Six inches of flowing water can knock a grown man off his feet, and two feet of flowing water can move an automobile. More than 80% of flood related deaths happen with people who are unable to escape their cars when the waters rise unexpectedly.
Residents are advised not to attempt driving or walking through any flooded streets. The water may hide the fact that the street is no longer intact. If someone finds themselves swept away in flood waters, they are advised to place their feet in front of them and fold their arms across their chest. If trapped inside a vehicle, do not try to open the doors. The pressure of the water against the door will make it impossible. It is encouraged to roll down the windows to escape. If the windows will not open, the occupant should allow the car to fill with water; the pressure will equalize and the door should open.
Flood evacuations should be taken very serious, with every family having an evacuation plan in place, with a predetermined route, preferably one that leads to higher ground. It is also highly recommended to have a "go bag" prepared, with clothes, non-perishable food items, bottled water, cash (ATM's may be out due to power loss or flood damage), and a battery powered radio (with extra batteries) to stay informed of rapidly changing weather conditions.
Evacuees should not attempt to return to their homes until flood waters have receded and the all clear given by local emergency management. Upon returning, it should be verified that the structure is in fact stable and that all utilities are turned off before entering.
Water Damage Local.com is a nationwide network of IICRC certified flood damage repair and water restoration providers.
###