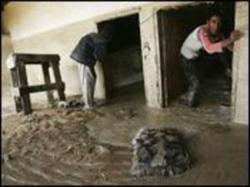 Sewage based flooding is among the most dangerous of all types of flooding.
Atlanta, GA (PRWEB) August 18, 2011
Water Damage Local.com advises residents displaced by sewage based flood damage to seek professional help when it comes to the complex and messy clean up process. This after the past weekend's record rainfall over much of New York overloaded the city sewers, causing waste water to flood into streets and basements in some of the more low lying areas by Monday.
Staten Island and Queens both experienced significant flooding, with crews out early in the week trying to clear catch basins and remove water from affected areas. Backed up sewers were the biggest problem, sending waste water into low lying basements and causing serious health concerns.
Nearly six inches of rain fell across the area between Saturday night and Monday morning, overwhelming the city's sewer system and treatment plants, causing the sewers to back up and overflow into the roads. As often happens during heavy rain or snow, the city was forced to combine some rainwater and untreated sewage that runs through a massive system of pipes and pump it into waterways. The city has a system of more than 60 different places from which it discharges the mixture.
More than 1000 calls concerning backed up sewers were received as of Monday morning, considerable, but still far short of the record 1800 calls received during a 2007 storm.
The National Weather Service predicted the severe weather would be over by Monday, however scattered storms across the area still poses a risk of aggravating an already serious scenario.
New York has spent more than $2 billion since 2002 in an attempt to upgrade their sewer systems. There are an additional $1.8 billion in additional renovations and additions due over the next decade.
A spokesperson for the city said they are also trying to find newer and more effective methods of keeping rainwater out of pipes and storm drains altogether, such as encouraging developers to install green roofs on buildings or constructing parking lots from pavement materials that water can permeate.
The unexpected deluge also affected the region's suburbs. More than 10 inches fell in parts of Long Island's South Shore from Sunday to Monday. Flooding occurred Monday in northern New Jersey, the weather service said.
Water Damage Local.com recommends installing a backflow valve in your basement piping designed to trip the pathway shut if water begins to back up. This prevents the waste water from running back out onto the floor or carpeting. A properly installed backwater valve must be placed so that sewage backup will be stopped and not come out through other outlets in your basement, such as sinks, toilets, showers and laundry tubs.
Normally a permit and inspection will be required to install a back flow valve. Since part of the basement floor will be dug up and since proper placement of these items is important, it is recommended that homeowners contact a qualified plumbing contractor.
Sewage based flooding is among the most dangerous of all types of flooding. Generally classified as Category 3 Water or Black Water, it contains a high degree of contaminants, viruses, bacteria, and parasites that can cause serious illness or even death if exposed to or consumed by humans and animals.
Sewage based flood damage should always be remediated by a licensed, IICRC certified water restoration professional. Water Damage Local.com is a nationwide network for restoration providers, able to handle even the largest spills.
###