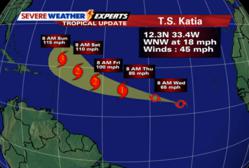 If the storm embarks on a more westerly track, that could mean trouble for the US, although that is by no means certain.
Atlanta, GA (PRWEB) September 01, 2011
Just when a storm weary East Coast had seen the last of Hurricane Irene, who blew ashore last weekend and did more than $7 billion in flood damage, Water Damage Local.com has already begun keeping an eye on Tropical Storm Katia. Formed off the coast of Africa, Katia is rapidly ramping up and positioning herself to potentially threat the US mainland within the next week to ten days.
Katia is expected to become a hurricane in the next 24 hours; currently, she is packing winds between 40-45 mph and is located about 630 miles west-southwest of Cape Verde.
"Continued gradual strengthening is forecast and Katia is expected to become a hurricane by late Wednesday or early Thursday," said a spokesperson for the National Hurricane Center in Miami. Its current track and intensity forecasts have the storm growing into a Category 3 hurricane on the Saffir-Simpson five-step scale.
Some computer forecast models have Katia curving back out to sea before she reaches the US, a welcome notion following Irene's massive damage and 40 person death toll. Hurricane Center officials admit that it is premature to determine precisely what course Katia will take, but initial data suggests she will curve. It may be another four or five days before any solid computer models can be generated that will provide more concrete results.
If the storm embarks on a more westerly track, that could mean trouble for the US, although that is by no means certain. What is certain is that we are approaching the peak of hurricane season, which is roughly in the middle of September.
This allows for the possibility that before Katia's ultimate track is determined, a different tropical storm or hurricane could develop and become a more immediate threat to land. The regions of possible development would be the western Atlantic, Caribbean, and Gulf of Mexico, with the Gulf being the most likely location for development.
Katia is the 11th named storm of this Atlantic hurricane season, which runs from June 1 to Nov. 30. The average hurricane season usually produces that total, according to the hurricane center. Forecasters predicted that this season would be above average in the terms of the number of named storms.
In addition to Katia, there is also the very distinct possibility of a tropical system developing in the Gulf of Mexico, this weekend, according to reports issued by the Commodity Weather Group in New York. However, there is only a minimal threat to the US or any of the oil producing interests in the Gulf.
Water Damage Local.com assisted more than a thousand residents and business owners in the days following Hurricane Irene, and is ready to provide the same assistance if Katia or any other storms wreak havoc on the US mainland. WDL's Director of Content Billy D. Ritchie explains "Storm damage on this level is more than the average homeowner can deal with. That's why we have providers across the country that are able to handle even the largest water damage problems."
Property owners with storm damage can contact Water Damage Local.com
###