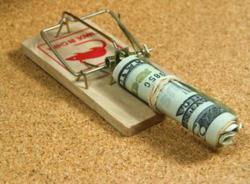 More than 40 million people are victims of scams every year, and the reason they keep cropping up is because people keep falling for them.
Atlanta, GA (PRWEB) September 01, 2011
Water Damage Local.com, a nationwide network of water restoration providers, is advising people to beware of scam artists in the wake of Hurricane Irene. The recent storm sideswiped the Eastern Seaboard, causing devastation from the Carolinas to New England. Such a scenario is prime territory for those looking to separate desperate property owners from their money.
Among the more nefarious scams to watch out for:
Insurance Fraud. A lot of people don't have flood insurance, and as a result may be facing some fairly stiff repair costs. Some scammers pose as insurance agents, offering to write a policy that will cover the damage. Of course once they have the homeowner's money, they vanish, never to be seen again. Residents should remember that no insurance company will write a policy to cover any damage that has already occurred. The time to take out flood insurance is, obviously, before the disaster strikes.
Contractor Scams. Following a disaster such as Irene, contractors will show up on doorsteps almost immediately, offering to repair the home or business. People falling for the scam will pay the scammer up front, usually for "materials", only to find the person (and their money) vanishes almost immediately. The wise approach is to avoid any contractor who asks for money upfront, or who appears just a little too anxious to begin the work. Avoid the urge to get things done straight away and check references before hiring anybody.
Bogus Charities. These are as numerous in the disaster world as Tribbles on the Enterprise, with fly by night charitable organizations popping up to cash in on the unfortunate victims of natural disasters. Whatever they claim to represent, the only person who is going to benefit from the money donated is the scammer. Only make charitable contributions to reputable charities, with name recognition, such as the Red Cross or Salvation Army. If the charity calling you sounds legit, but their name is unfamiliar, give.org and charitynavigator.org are both excellent resources for verifying their claims.
E-mail Scams. This is the crazy first cousin to the Bogus Charity. E-mails will show up claiming to be from a given organization, asking for a donation in the form of a credit card or bank account number. Of course if the number is given, the bank account is promptly drained or the card maxed out with charges in no time. These numbers should only be given out to persons or organizations that are familiar or trusted.
Facebook Scams. With the rise of social media comes the natural evolution of the scam artist to adapt to this new avenue of communication. This usually comes through the form of videos posted that ask for your personal information before they can be viewed. A scammer can do quite a bit of damage with just a person's basic information.
More than 40 million people are victims of scams every year, and the reason they keep cropping up is because people keep falling for them. Always verify the person you are doing business with, and report any fraudulent or suspicious activity to the police.
Water Damage Local.com is headquartered in Atlanta, GA with service providers from coast to coast.
###