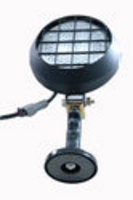 Our HML-2, HML-3, HML-4 and ML-2 continue to be staples in the cable, telephone and electric service fleets
Kemp, TX (Vocus) September 17, 2009
Larson Electronics Magnalight adds the MUL-012 magnetic mount 12 volt flood light with cigarette plug as a low cost , durable task light option for utility fleet service vehicles.
To meet the demand of utility service operators and contractors seeking lower cost, durable handheld lighting, Larson Electronics Magnalight introduced the MUL-012. The MUL-012 handheld flood light as flood light with lens guard, 5 inch upright handle and 100 pound grip magnetic base. This 12 volt task light is powered by a detachable 16 inch cord with gives it ample room to be used at reasonable distances from the utility service trucks. Unlike the MUL-011, which has a similar form factor but with a longer, focused spotlight beam, the MUL-011 produces a soft, wide beam for close up task lighting. The MUL-011 is simple, durable task light that can be temporarily attached to any metallic surface in and around vehicles and equipment. Once the task is complete, the operator can pull the light 12 volt magnetic light off of the steel surface and return it to the tool box.
"Our HML-2, HML-3, HML-4 and ML-2 continue to be staples in the cable, telephone and electric service fleets," said Rob Bresnahan with Larson Electronics. The original Magnalight spotlights are made here in the USA and provide a lot of light in an easy to service form factor. However, newer products like the MUL-012 flood light are hybrids, combining some lower cost illumination components from overseas with our American made chassis. This enables us to bring down the cost for these new products like the MUL-011 spotlights and MUL-012 floodlight. We continue to focus on the important aspects of lighting that degrade with heavy use, like the cords, handle and base. We still integrate a detachable 16 foot cord with a cigarette plug that will actually stay put in the socket. The SP2 jacket cord is UV proof and designed heavy use. The bulbs are easy to change and the solid, injected molded handles and powder coated steel brackets are built here in the States to last. These simple 12 volt spotlights and floodlights are made to suit the needs of large utility service fleets or large contractor bases where it is difficult to keep track of these portable lights. With a price point under $50, the MUL-011 spotlight and the MUL-012 flood light can be an ideal additional to the tool box for fleet service trucks in the utility industries including cable, telephone and electric companies."
Larson Electronics Magnalight was one of the first companies to develop and produce a 12 volt spotlight that plugged into the cigarette plug socket back in the 1960s. Today, Larson Electronics continues to augment the Magnalight line of 12 and 24 volt spotlights and work lights for the utility service industry. However, today Magnalight.com offers a wider range of lighting for those same industries, ranging from explosion proof and hazardous location lighting to portable LED light towers for first responder applications.
###