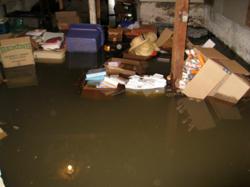 As with any sort of water damage in the home, it is always advisable to begin the water removal process as soon as possible.
Atlanta, GA (PRWEB) September 12, 2011
According to Water Damage Local.com, 98% of all basements will become flooded basements, suffering from some form of water damage at some point. Homeowners up and down the East Coast and across the Southeast joined the 98% club in the last few weeks, as hurricane Irene and tropical storm Lee soaked homes and businesses with torrential rainfall and caused record flooding in many areas.
Basements are natural targets for excess water, due to their position as the lowest point in any home and the fact that water loves to run downhill. It is always advisable to make sure the landscaping surrounding a home slopes away from the structure for a distance of no less than ten feet, but in extreme cases, once the ground has been saturated, any additional water that is added will have to go somewhere, and it is going to seek the path of least resistance.
As with any sort of water damage in the home, it is always advisable to begin the water removal process as soon as possible. Water will continue to cause damage for as long as it is allowed to remain untreated, rotting wood, rusting metal, destroying personal items and valuables, not to mention setting the stage for mold to grow.
All utilities should be shut off at the source. Water and electricity do not mix, and if gas is leaking as a result of the flood, then it only takes a spark to trigger some undesirable circumstances.
Wet dry vacuum units or gas powered submersible pumps should be used to extract the water from the basement. Which type of unit used depends of course on the depth and severity of the spill.
When pumping, it is vitally important not to pump the water out too fast. Doing so may cause a sudden change in pressure that could weaken the structural integrity of the walls, making them prone to collapse. The water should be pumped out slowly but steadily, at the rate of about a third a day.
Once the water is out, the job is not finished. Carpeting, flooring, and drywall will still have retained a significant amount of water. Fans, blowers, and dehumidifiers will be required to remove all residual moisture from surfaces and the surrounding air, as well as reduce humidity levels in the area to ward off mold.
Electrical appliances and outlets should not be used until the system has been checked out by a qualified electrician. The same principal should be applied to the heating and air system.
Carpets should be salvageable if they have been submerged for less than 48 hours. They will need to be taken up, dried, cleaned, disinfected, and sanitized, possibly more than once. All damaged carpet padding will need to be thrown out and replaced. Floors should be checked for warping or cracking, and drywall inspected for the telltale swelling and discoloration that accompanies water damage.
Water Damage Local.com is one of the leading providers of water damage and flooded basement restoration services. Their nationwide network of IICRC certified providers is available 24/7 to handle even the largest water damage problems.
###