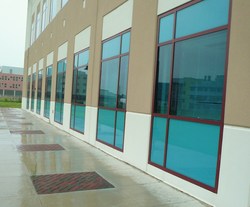 This is the performance we had been hoping for. We have found the solution.
Staunton, Virginia (PRWEB) May 8, 2009
Savannah Flood Protection has been awarded the contract for the City of Staunton first Municipal Flood Protection Project in 2009. Savannah Flood Protection was awarded the contract over nationally recognized competitors, Presray Corp. and Walz & Krenzer, Inc.
Savannah Flood Protection to furnish Removable Flood Panel Systems in custom sizes and configurations to resolve the continued flooding at six commercial businesses in the area. The system offered by Savannah Flood Protection will competitively reduce the financial losses suffered by Staunton commercial businesses due to river flooding.
Savannah Flood Protection was praised for their performance during an on-site mock-up during actual field-testing. Jason DeBord, CFM from the firm Engineering Concepts, Inc. praised Savannah Flood Protection, saying, "This is the performance we had been hoping for. We have found the solution." DeBord also added that this was just the beginning of a long program of flood mitigation for the county.
The Glass Flood-Wall system will allow Augusta County businesses the luxury of 24/7 flood protection. Preceding a flood threat they will only need to install panels on a few entry doors. Architects and shop owners can see the economical advantages the system offers. General Contractor, Dink's Construction Co. agrees and thus awarded the contract to Savannah Flood Protection for their competitive versatility.
About Savannah Flood Protection:
Savannah Trims, Inc. DBA Savannah Flood Protection is a leader in Flood Protection and Mitigation. Over the past 25 years of business they have developed and perfect their Glass Flood Protection System. The system offers the performance and look of traditional Storefront System but with the added advantage of 'Engineered' Flood Protection. This Glass Flood-Wall system contains several patented features, which separates SFP from everyone else in the industry. This system has been recommended generically by FEMA as a Flood Mitigation Solution.
Contact Information:
Dennis Dudash, VP of Marketing
Savannah Trims
3567 91st Street North, Suite #4
Lake Park, FL 33403
1-888-640-0850
bdudash(at)SavannahTrims.com
http://www.SavannahTrims.com
###