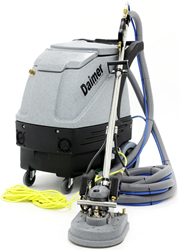 Daimer® takes immense pleasure in introducing a tile cleaner that is brilliantly designed to make the tough floor cleaning operations significantly easy and quick with its 9" and 19" motorized spinner heads. The XTreme Power® HSC 13000...
Woburn, MA (PRWEB) December 23, 2012
Daimer Industries, Inc.®, a major international supplier of American-produced commercial cleaning systems and products, including multipurpose floor cleaning machines, feature-rich steam cleaners for carpets, and versatile floor steam cleaners, has released its breakthrough multi-functional line of patented floor cleaning machines. The company's XTreme Power® HSC 13000, which emits 1500 psi pressure, is the most powerful machine of its type in the world. The HSC is a fully self-contained cleaning system designed for hard floors, carpet, upholstery, walls, and other uses with optional tools.
The HSC 13000 machine comes integrated with a patented technology, including a wand featuring a powerful, exclusive 9" motorized spinner head for effective and versatile cleaning. An optional 19" spinning wand is also available for cleaning larger surface areas. The machine offers unsurpassed tile and grout cleaning of up to 1000 square feet per hour. Daimer®'s technology provides 60% better cleaning power than other brands' non-motorized cleaning machines, and is "greener" since it uses up to 300% less water.
"It is difficult to buy floor cleaning machines that can clean both tight spaces and large areas at the same time," states Daimer Industries, Inc.® spokesman Matthew Baratta. "Daimer® takes immense pleasure in introducing a tile cleaner that is brilliantly designed to make the tough floor cleaning operations significantly easy and quick with its 9" and 19" motorized spinner heads. The XTreme Power® HSC 13000 can be used as a hard surface spinner cleaning machine, a carpet cleaner extractor, a commercial upholstery cleaning machine, a pressure washer, and even a wall cleaning system when using the appropriate optional tool."
The HSC 13000's unique spinning blade on the underside of the 9" spinner head rotates at a speedy 1000 revolutions per minute (rpm), and creates a tornado-like effect. The blade fires water onto the surface at pressure levels of up to 1500 psi.
Unlike a conventional floor steam cleaner or tile steam cleaner, this advanced machine from Daimer® comes with fully adjustable pressure levels. The system includes a convenient knob allowing completely adjustable pressure from zero up to the maximum pressure level. Various surfaces and applications require varying pressure rates.
Daimer®'s XTreme Power® motorized spinner head is powerful enough to offer twice the cleaning power of an ordinary tile cleaning system without losing any pressure, due to the constant rotation of the head. Other brands' machines lose the equivalent of about one half the pressure since the water must spin the blade and flow through the blade's nozzles simultaneously. The HSC can emit the full pressure through the nozzles. Moreover, the powered head available with this outstanding tile cleaner prevents over-spray waste by using a circumference rubber guard that limits fluid leakage.
Employment opportunities for pest control workers alone are expected to increase by 15% between 2008 and 2018. The reason behind the increase is due in part to the proliferation of nuisance insects and rodents in both residential and commercial sectors. Improper cleaning leads to food and other build-up that can be partially addressed through the use of more frequent and comprehensive cleaning.
The latest floor steam cleaner launched by Daimer® solves the problems related to slow cleaning systems. The 9" spinning head can be adjusted and pulled down towards the floor similar to a vacuum cleaner, so the user can clean under tables, counters, and corners. It can also be used for advanced wall cleaning in restrooms and others. The versatility is unprecedented.
Daimer®'s XTreme Power® HSC 13000 is a productivity-maximizing marvel since it offers continuous extraction, removing runoff and preventing the redistribution of dirt, grime, and grease. The targeted substances are powered off surfaces and simultaneously collected in the extraction chamber for easy disposal. The machine features a fully automatic filling and automatic discharging pump that can be turned off when auto fill and auto dump are not required. Sometimes a water source for clean water and a toilet or drain for automatic dumping are unavailable.
A traditional grout steam cleaner is simply no match for the many varied tasks that can be tacked by the HSC 13000. The machine can handle marble cleaning, stone cleaning, removing and stripping wax buildup on VCT and vinyl flooring,porous and smooth tile and grout cleaning, interior auto detailing, rubber floor cleaning, and many other applications.
The equipment features a 13-gallon solution tank and 15-gallon recovery tank. When combined with the two-stage motors and the five gallons per minute dumping capacity, the HSC 13000 stands out as one of the best floor cleaning machines on the market.
Additional Information:
Learn more about Daimer® machines by visiting the company's website or by calling Matthew Baratta directly at (888) 507-2220. Daimer® machines are shipped to most countries globally.
About Daimer Industries, Inc.®:
Daimer Industries, Inc.® is one of the most trusted names in the cleaning equipment industry. They have been supplying hundreds of models of some of the industry's best upholstery steam cleaner systems, multi-pressure electric pressure washer equipment, multi-use grout steam cleaner systems, enhanced car wash machines, industrial-grade pressure wash machines, vapor-ejected tile steam cleaner machines, and other equipment for cleaning porous and non-porous surfaces, and many other products designed for practically all industries in all markets globally.