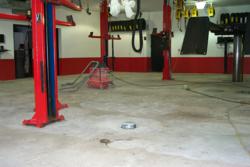 Moisture vapor transmission issues often leads to a high pH liquid building up under the
coating, this destroys the bond line of typical epoxies.
Chicago, IL (Vocus/PRWEB) March 09, 2011
FloroProof, an innovative new system in the Florock Industrial Flooring line, solves a long-standing and expensive industrial flooring problem – when used as a basecoat, the material prevents Moisture Vapor Transmission (MVT) from damaging subsequent floor coatings.
Depending upon site conditions and the composition of the concrete mix, there are many occasions when a concrete slab can create undesirably high moisture levels. In such situations, MVT tends to make its way upward through the slab via capillary action, eventually condensing into a high pH liquid that builds up, destroying the ability of the industrial flooring to bond to the substrate.
In the past, the prudent contractor would attempt to wait for new concrete to fully cure before installing coatings, all the while testing for slab moisture at regular intervals. However, as Tom Lux, Florock Technical Representative, explains, some slabs can take months before their MVT level is considered safe for typical industrial coating application. Some may never reach an acceptable level. With today's tight construction time-lines, and even tighter budgets, contractors can little afford to wait.
New FloroProof, when installed as directed, offers the industrial flooring contractor previously unattainable peace of mind – and the confidence to guarantee proper adhesion and performance of concrete coatings, even in the presence of MVT.
Local Florock professionals are available nationwide to assist installers and facility managers in choosing the best industrial flooring for their unique applications. Call 1-800-FLOROCK (1-800-356-7625) to find a representative near you.
ABOUT FLOROCK®, MANUFACTURED BY CRAWFORD LABORATORIES, INC. - Serving facilities nationwide, Crawford Laboratories, Inc. is a respected leader in the manufacture, research and development, and installation of solutions-oriented concrete floor coatings and toppings. Independently owned for over 58 years and located in Chicago, Illinois, Crawford Laboratories was founded on the principles of cutting-edge technology, innovation and impeccable integrity.
###