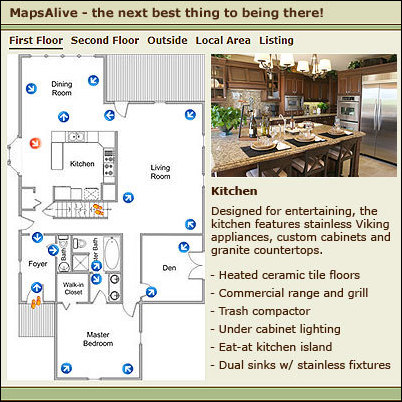 By utilizing interactive floor plans, a MapsAlive tour gives buyers a true sense of place relative to other rooms and features of the home. They see how rooms flow from one to another, the views from the inside to the outside, and even how a house is situated on its grounds
Waitsfield, VT (PRWEB) April 10, 2007
MapsAlive - a new Web-based real estate application that offers interactive floor plans as an alternative to virtual tours - was recently launched by AvantLogic Corporation.
The application allows realtors and "for sale by owner" sellers to create online home tours (see video) - tours that until now could only have been produced by experienced Web developers.
A MapsAlive tour provides the real estate industry with an alternative to virtual tours and conventional slideshows. These interactive tours use directional markers positioned on floor plans to point out important features of a home. When a prospective buyer mouses over a marker, a photo taken from that location, along with descriptive text, appears instantly.
"By utilizing interactive floor plans, a MapsAlive tour gives buyers a true sense of place relative to other rooms and features of the home. They see how rooms flow from one to another, the views from the inside to the outside, and even how a house is situated on its grounds," said Tom Clark, MapsAlive Sales and Marketing Director. "MapsAlive tours are in a category by themselves. They are interactive tours, not virtual tours. Buyers can stroll through a property using their mouse in a more natural way than with a conventional 360 degree virtual tour."
Unlike virtual tours which can take time to load, the photos and text within a MapsAlive interactive floor plan appear instantaneously. Dozens to hundreds of photos can appear on a single MapsAlive tour page. Realtors can feature special amenities, architectural details, built-in cabinets, appliances and other details of a home. A MapsAlive tour can also be used to create interactive maps of surrounding neighborhoods and communities, highlighting schools, shopping and recreation areas and other points of interest, something that can't be done using conventional methods.
MapsAlive establishes a new standard for on-line listings. Realtors appreciate that interactive floor plans can be embedded directly into their web pages, keeping buyers on their site, actively engaged and focused on their properties.
Affordable Technology
It's easy and inexpensive to create a MapsAlive tour. Tours can be purchased in packages beginning at $19.99 for three months. A Pro Plan is also available as a cost-effective alternative for volume users. There is a no-obligation, 30-day free trial for new customers to build and go live with their MapsAlive tours.
About AvantLogic
AvantLogic was started in 1999 as a software consulting company by co-founders Janice Kenyon and George Soules. Kenyon and Soules had bought and sold properties and found conventional virtual tours to be ineffective. They developed MapsAlive so that anyone can create inexpensive and professional interactive floor plans that showcase properties to their best advantage. Kenyon and Soules have over 50 years of combined experience in software development.
Contacts:
Thomas Clark
MapsAlive.com
Sales & Marketing Director
802-999-6369
tomclark@mapsalive.com
http://www.MapsAlive.com
###