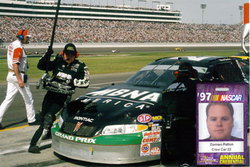 I always want to be the best I can be and I pride myself on learning from my mistakes.
Las Vegas (PRWEB) August 14, 2008
Businessman Damien Patton is the classic American success story. From humble beginnings in L.A., he has risen to the heights of success in business. Throw in tours of duty with the U.S. Navy in Desert Storm and Somalia; working as a top pit crew professional on the NASCAR circuit; and graduating magna cum laude from the University of North Carolina at Greensboro with a B.S. in Finance despite not finishing high school, and you get the picture.
''I'm a very competitive person,'' said Patton. "I always want to be the best I can be and I pride myself on learning from my mistakes."
A high-energy, Type A individual, Patton likes his challenges thick and fast. It's hardly surprising, then, that at one time he also served as a Crime Scene Investigator while working full time in a management role for a technology company. Once he moved into the entrepreneurial world, Patton created and managed Pacific Imports International (PII), a premier flooring operation in Honolulu, Hawaii. PII started as a distributor and retailer of hardwood and bamboo flooring and expanded its footprint into a contract manufacturer with offices in Las Vegas, Hawaii and China.
After years of hearing flooring customers comment about the lack of consistent and detailed flooring information available on the Internet, he decided to create what the customer thought was missing and FindAnyFloor.com was born.
A man of both charity and compassion, Patton brings these qualities to his work. He also has a concern for the environment that has led him to develop Green.FindAnyFloor.com. Not forgetting industry professionals, Patton also started Pro.FindAnyFloor.com, as he wanted somewhere for retailers, installers and floor cleaners to socialize other than a few times a year at tradeshows. And from the outset, he was determined that all his sites will be Section 508 accessible.
"Section 508 is part of the federal Rehabilitation Act and was put in place so that technology in all government agencies would be accessible to people with disabilities," said Patton. "We want to take a lead role in the private sector and try to spread the idea. Our goal is to get other commercial websites to realize there are millions of people who need a 508 level of access, and follow suit."
As the audience for his sites grow and his ideas gain popularity, Patton constantly looks to the future.
''We have a lot of plans,'' said Patton. "Besides our innovative ideas in covering and serving the flooring industry, we want to expand into green building information - not just green flooring. We want to take the technology and ideas we implement and move into other industries, always with an emphasis on accessibility."
With FindAnyFloor.com and its partner sites, Damien Patton has embraced a new challenge. It is one in which he sees the Internet as a powerful tool for the environment, and a basic right of the millions of people with disabilities.
About FindAnyFloor.com: FindAnyFloor.com is striving to be the world's largest floor covering information site and social community. The site is a free resource for consumers as well as flooring professionals on all subjects related to flooring. The site also provides interactive tools for the flooring do-it-yourselfer and professional alike. FindAnyFloor.com is proud to be working towards becoming Section 508 compliant and a fully accessible site for all visitors.
About Damien Patton: Damien successfully created Pacific Imports International, a large floor covering distributor that he sold in 2007. The company maintained offices in Asia and the United States and became a premier distributor and retailer of bamboo and hardwood flooring. Damien is the Founder and CEO of FindAnyFloor.com, the end result of his vision to have the largest and most accessible floor covering resource and social community on the Web.
Contact:
Damien Patton
Founder and CEO
Ph: 702-242-9663
http://www.FindAnyFloor.com
###