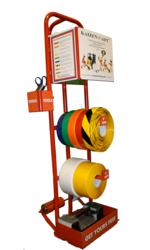 To comply with OSHA, facilities need communication between management, maintenance, and forklift drivers about the placement and maintenance of floor markings. The Kaizen Cart teamed with Superior Mark floor tape facilitates this communication.
Wake Forest, NC (Vocus/PRWEB) February 15, 2011
OSHA requires that the aisles and passageways be clearly marked. In industrial factories and warehouses, this is usually attempted with painted lines. Floor painting is a messy, time consuming process that requires shutdown of work in the area being painted. Because of the abusive environment of heavy machinery and forklift traffic, lines frequently become damaged within hours of painting. It is practically impossible to touch up painted lines on the fly, to keep them highly visible on a daily basis. With the combination of the patent pending Superior Mark floor tape and the Kaizen Cart, the floor markings can stay clean and bright on a daily basis. This new cart helps facilities maintain a safe working environment for their employees and stay ready for inspections.
Named after Kaizen, a lean manufacturing concept that means continual improvement, the Kaizen Cart holds up to 10 rolls of Superior Mark floor tape plus all the tools and supplies necessary to maintain the floor markings. This cart is ready to go and workers can repair damaged tape in minutes. The cart has an 8" rubber tamper roller to perfectly adhere the pressure sensitive Superior Mark tape.
The Kaizen Cart features a customized magnetic color code chart, which displays the company's floor marking color code for all employees to easily reference. The Kaizen Cart will help the facility stay in compliance with OSHA's floor marking regulations, by displaying the color code in a central location, and ensuring that employees are empowered to continually maintain the floor markings.
The Kaizen Cart is priced at $1100, but as a special introductory offer, InSite is offerring a free cart with the purchase of 25 rolls of Superior Mark aisle marking tape. The Kaizen Cart is available exclusively at Stop-painting.com. Use the coupon code freecart to take advantage of this offer.
Company Information:
Stop-painting.com is owned by InSite Solutions, LLC. In addition to manufacturing the Kaizen Cart, InSite also manufactures Superior Mark and Last Mark floor marking tapes. InSite specializes in floor tape and pavement marking tape with patent-pending designs that are made to last. InSite offers a variety of innovative safety and traffic control supplies to keep facilities safe and organized, inside and out.
Contact Details:
InSite's selection of workplace safety and traffic control solutions are available for sale at their ecommerce website, http://www.stop-painting.com/. Please contact Cliff Lowe for additional information. The telephone number is 1-866-284-1541 and email is customer-service(at)stop-painting(dot)com. Find us on Twitter http://twitter.com/insitesolution, Facebook, and Linked In http://www.linkedin.com/company/insite-solutions-llc.
# # #