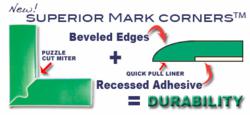 "Superior Mark Corners are the most durable corner marker because they are the only ones on the market with beveled edges all the way around, which protect the adhesive from forklift abuse."
(PRWEB) June 09, 2011
Earlier this year InSite debuted its Superior Mark Corner, manufactured with their patent pending Superior Mark floor marking tape. The design features beveled edges and recessed adhesive to maximize durability. Their functionality is especially appreciated in large industrial facilities that are not only required to mark their floors to comply with OSHA regulations, but also utilize floor marking systems to improve organization and efficiency. Marking the floors of industrial environments is a challenge given the nature of the heavy traffic, such as forklifts that drag and push heavy skids around the clock.
Superior Mark Corners are often used to create boxes on industrial floor, to delineate spaces for equipment or materials. Corner markers are also very useful when marking aisles and passageways. When these paths have to change direction, corners can be used to cleanly and quickly mark a ninety degree turn in the path.
Workplace efficiency programs like 5S and Lean are examples of conceptual models that preach the value creating of color coded visual workplace. Superior Mark Corners come in six colors, meaning there are 15 different possible color combinations that can be used to create color codes with various meanings. One of the qualities that makes a good 5S floor tape is the ability to remove the tape to accommodate layout changes. Superior Mark is completely removable, does not damage floors, and leaves little to no residue. This quality makes it a great solution for facilities that practice Lean and 5S.
The improved design now features a puzzle cut miter and a quick pull liner. The puzzle cut miter is a way to consistently form the miter. Employees responsible for maintaining floor markings can easily align the two pieces that form the L-shaped floor marker, by simply fitting the pieces of the puzzle together to form a seamless joint. This is a big improvement over previous methods of forming corners. Typically forming a corner with floor tape meant overlapping two pieces of tape and performing a butt splice, a process that could easily take 10 minutes. With the new puzzle cut mitered corner, the process only takes a few seconds.
In addition, the new quick pull liner also speeds the installation process. Other corner markers on the market typically have a liner that is slightly recessed behind the tape, making it tedious to peel. The new quick pull liner is a very thin piece of film that extends beyond the edge of the tape about a millimeter, just enough to easily grab hold of the liner.
"I hate to call something idiot-proof, but that's what it is," says Insite owner and creator of Superior Mark Cliff Lowe. "Superior Mark Corners are the most durable corner marker because they are the only ones on the market with beveled edges all the way around, which protect the adhesive from forklift abuse." The idea behind the product was to make floor marking programs easier to maintain. Since maintenance and repair of floor markings is inevitable in these abusive industrial environments, InSite Solutions strives to make the process as efficient as possible.
To request a free sample of Superior Mark floor tape and Corners, visit the manufacturer's website, http://www.stop-painting.com. Stop-painting.com is the leading expert on industrial floor marking and designs floor marking solutions for traffic control, Lean/5S organization, industrial safety, OSHA compliance, and other custom applications. The parent company, InSite Solutions, holds a patent for a traffic marking tape design. For more information, please contact Cliff Lowe at 1-866-284-1541.
###