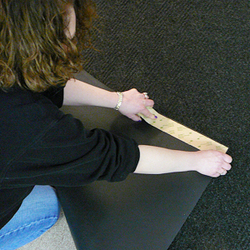 With an aging but active population, the need to improve safety and prevent slip and fall over mats is increasingly important
Cleveland, OH (PRWEB) March 8, 2010
Martinson-Nicholls Stay In Place Matting Tape is designed to stabilize floor mats to smooth or carpeted floors. The anti-slip matting tape addresses the American Disabilities Act recommendation that floor matting be stable to prevent potential trips and falls.
Stay-in-Place Tape uses a 3M adhesive that attaches to the vinyl backing of floor mats. The other side of this pressure-sensitive tape attaches to a hard surface or loop piled carpet, stabilizing mat movement or lifting. By taping the product to the edges of your floor mats, it also helps seal out dirt and moisture that can accumulate under floor matting.
"With an aging but active population, the need to improve safety and prevent slip and fall over mats is increasingly important," states Dan Ruminski, president of Martinson-Nicholls, Inc.
When you need to remove the mat, the transparent 3M tape is designed to come up without leaving a sticky residue to clean. It will not harm carpets. The Stay-in-Place Tape is strong and resists tearing even one challenging surfaces such as marble floors. The tape is intended for indoor application only, such as building entrances or other interior mats.
This slip-resistant product comes in two versions: Stay-in-Place Matting Tape 130 for smooth, sealed hard surfaces, and Stay-in-Place Matting Tape 140 for looped pile carpeting. Both tapes are offered in 2 inch by 10-foot rolls. It applies in seconds, and allows the floor mat to be picked up and repositioned for cleaning.
About Martinson-Nicholls
Martinson-Nicholls, has established itself as a leader in custom anti-slip tape, heated floor mats, and eco-friendly floor matting for more than 25 years.
Martinson-Nicholls provides the customer with the exact size matting needed--small, large, standard, nonstandard, special shapes and logos. Custom installations are also a specialty of the company.
The company is sponsoring a new blog on Cleveland Industrial History, with entertaining and informative stories on Cleveland's key role in industrial history.
Anti-slip safety tapes and treads are available in various sizes and textures from hand cut or die cut pieces to full rolls and special shapes. For more information, please visit http://www.floormat.com.
###