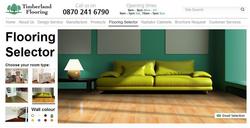 Norwich, UK (PRWEB) September 25, 2009
For ten years Timberland Flooring have been providing and installing wooden flooring to homeowners across the UK.
This week they celebrate the launch of their brand new website.
The company believes that their new site confirms their achievements over the last decade, and showcases the quality of the flooring product and installation services that they offer people today.
The site launch comes at a time when homeowners are choosing to invest in home improvement projects rather than move house.
To interest such homeowners the site has integrated within it a visually stunning flooring previewer.
This tool gives visitors the ability to simulate a wide range of wooden flooring styles within 5 different room types. Visitors can even choose the colour of the walls, in order to help picture how new flooring would look in their property.
As well as offering a wide range of wood floors, the new Timberland Flooring site also showcases the company's range of under floor heating systems, radiator cabinets and flooring for staircases.
Timberland Flooring sources all of its products, including its wooden flooring, from forests that adhere to continuous replanting schemes wherever possible.
For a limited period the site is offering visitors a £250 discount if they place their order online.
# # #