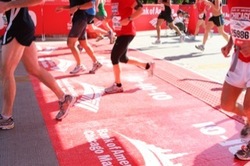 Wake Forest, NC (PRWEB) October 14, 2010
Insite Solutions, LLC manufactured the custom printed pavement marking material used in the recent Chicago Marathon, which took place on Oct. 10, 2010. Although Insite Solutions is known more for manufacturing Superior Mark brand floor tape, the company also holds a patent for a custom print process on pavement marking material.
After the winner of the 2006 Chicago Marathon was hospitalized due to a head injury caused by slipping on the printed finish line, the organizers of the race searched for a safer alternative. Cliff Lowe, owner of Insite, created a special pavement marking material for the race, which featured irregularly shaped aggregate to prevent slipping. This material is printable, allowing sponsors to display their support without compromising the safety of the runners. Insite's custom printed pavement marking material was used in this year's Chicago Marathon, as well as in the 2007 and 2008 races. So far the material has successfully prevented all runners from slipping as they crossed the finish line. This year 36,159 runners crossed over the finish line safely.
Insite Solutions was incorporated in 2003 in North Carolina, and specializes in innovative traffic control and industrial safety solutions. Insite is the manufacturer of Superior Mark and Last Mark brands of industrial floor marking tape and additionally offers a variety of floor marking tape and pavement marking materials.
###