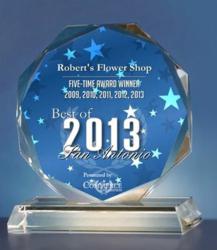 San Antonio, TX (PRWEB) June 26, 2013
For the fifth consecutive year, Robert's Flower Shop has been selected for the 2013 Best of San Antonio Award in the florists category by the U.S. Commerce Association (USCA).
The USCA "Best of Local Business" Award Program recognizes outstanding local businesses throughout the country. Each year the USCA identifies companies that they believe have achieved exceptional marketing success in their local community and business category. These are local companies that enhance the positive image of small business through service to their customers and community.
Nationwide, only 1 in 1,000 (less than one-tenth of 1 percent) 2013 Award recipients qualified as Five-Time Award Winners. Various sources of information were gathered and analyzed to choose the winners in each category. The 2013 USCA Award Program focuses on quality not quantity. Winners are determined based on the information gathered both internally by the USCA and data provided by third parties.
About U.S. Commerce Association (USCA)
U.S. Commerce Association (USCA) is a New York City based organization funded by local businesses operating in towns, large and small, across America. The purpose of USCA is to promote local business through public relations, marketing and advertising.
The USCA was established to recognize the best of local businesses in their community. Our organization works exclusively with local business owners, trade groups, professional associations, chambers of commerce and other business advertising and marketing groups. Our mission is to be an advocate for small and medium size businesses and business entrepreneurs across America.
About the company:
Robert's Flower Shop has been proudly serving San Antonio since 1948. They are family owned and operated. They are committed to offering only the finest floral arrangements and gifts, backed by service that is friendly and prompt. Because all of their customers are important, their professional staff is dedicated to making the customer's experience a pleasant one. That is why they'll always go the extra mile to make the customer's floral gift perfect. Robert's offers all the traditional florist services, including flower delivery and funeral flowers. They are also the best bridal florist, with a fantastic selection of wedding flowers. Visit their website for more information, http://www.robertsflowershopsatx.com/.