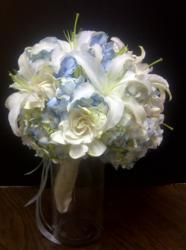 I will be surrounded by the Bay Area's most discriminating couples
San Francisco, CA (PRWEB) August 10, 2012
Blooming Floral Design of San Francisco has been tapped to showcase its exclusive wedding floral arrangements in the Modern Luxury Bridal Event—a showcase of the who's who in wedding planning at the Ritz-Carlton San Francisco on Sunday, August 12, 2012 from 11 am to 4 pm. Advanced, discounted tickets can be purchased at http://www.modernluxuryweddings.com/tickets.htm.
"I will be surrounded by the Bay Area's most discriminating couples," said Kaori Imaizumi, owner and principal designer of Blooming Floral Design. "This bridal event provides the unique opportunity for couples to meet with various wedding experts such as Blooming Floral Design in a very special setting."
The San Francisco florist specializes in bridal bouquets and stunning floral arrangements for wedding centerpieces, bouquets and other adornments. Imaizumi has hand-crafted thousands of bridal floral arrangements tailored to fit the vision of each bride.
This event will be exhibiting The Ritz-Carlton's new wedding pavilion and featuring wedding experts, premier caterers, grandiose specialty items, floral designers, custom invitations, distinctive cakes, photography and more.
For more information about Kaori Imaizumi's displays at The Modern Luxury Wedding Event, or for other floral services by Blooming Floral Design, call (415) 263-9897, visit their website at http://www.bloomingfloraldesign.com.
About Blooming Floral Design
Blooming Floral Design is a San Francisco award winning florist that specializes in bridal bouquets and stunning floral arrangements including Japanese Ikebana arrangements for weddings, special events, and funerals. The San Francisco flower shop contains beautiful fresh flower arrangements, silk flowers, bonsai specimens, Ikebana tools and supplies, and Japanese floral books.
Owner Kaori Imaizumi, an accredited member of the American Institute of Floral Designers (AIFD), specializes in European Contemporaries and Sogetsu Ikebana styles. Awards for her designs include: the American Institute of Floral Designers People's Choice Awards, San Francisco Garden Club Eastwood Awards, and the Kund Nielson Dried Design Awards. Kaori also holds a Sogetsu Ikebana certification.