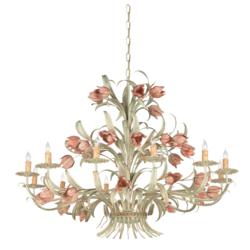 Whether modern or classical, pretty in pastel or done in dark dramatic colors, floral lighting fixtures are designed to bring a little hint of the natural world indoors, providing a sensuous, detailed artistic accent in place of an average humdrum light.
(PRWEB) September 04, 2012
HomeThangs.com – the Home Improvement Super Store has made their goal to deliver the right product to the consumer, with that in mind, shopping and home design tips, as well as special product selections are being introduced.
From modern pendants to elaborate crystal chandeliers, there are lighting fixtures to fit any home and any personal sense of style.
HomeThangs introduced a selection of a very specific subset of lighting – floral lighting fixtures, as well as a style guide and some design tips on what they can do for the space.
1. Even classically inspired lighting fixtures tend to have a fairly basic, geometric design. One of the worst culprits are flush mount lights. By and large, these are the most generic, boring, uninteresting lighting fixtures out there, and exist more or less only to provide built-in lighting in an average sized room with an average height ceiling. But floral lighting fixtures like the Cristallo Fiore Flush Mount from ELK Lighting for example, turn that mundane task lighting into something beautiful, adding intricate, nature-inspired detailing and instantly elevating the decor.
The Southport Flush Mount from Crystorama is another good example. It has a more garden-inspired, whimsical look and feel compared to the wild, untamed looking brambles of the Cristallo Fiore, but the effect is the same. Instead of a nondescript glass light attached to the ceiling, one gets an artistic, almost fanciful floral lighting fixture that can really complete a sun soaked room overlooking a garden or a pastel-themed little girl's room.
2. Floral lighting fixtures are ideal for cottage style homes, or anything done in pastels or with a slightly natural, garden-inspired outdoorsiness. The Iron Cage Pendant from Sterling Industries has all the appearance of a birdcage covered in pale dusky vining roses and adds a soft, effeminate touch to any space it occupies. Any other lighting fixture would give that charming whitewashed kitchen a different vibe. A simple metal or glass pendant might provide plenty of light, but it wouldn't add nearly the same whimsy or charm.
3. For something like a small child's room, though, permanent floral lighting fixtures would be nice, depending on the willingness to swap them out as the child (and their own personal taste) matures. But even temporary floral lighting fixtures like the Rosavita from Dimond have a lovely, soft touch that can add girlish prettiness to a room.
4. But not all floral lighting fixtures are, strictly, pretty – at least not in the subtle, delicate sense of pink flowers. Much like the Cristallo Fiore flush mount, the Knightsbridge Floral Chandelier has a much more regal, darker appearance, emphasizing the leafy, thorny aspect of floral lighting fixtures rather than soft pretty buds. As with most floral lighting fixtures, though, the inclusion of floral elements here makes this piece more visually interesting than an average crystal chandelier, combining the decadence of gold and crystal with a slightly more untamed natural element.
5. There are also floral lighting fixtures for more casual spaces, like a living room that's done up in light neutrals, soft grassy greens, and natural materials. The Alitalia Chandelier by Elk Lighting fills the basic function of any ceiling mounted light, but the swooping, sinuous lines, soft budding leaves, and flower-shaped glass shades help to bring a little bit of a fresh, outdoorsy feeling inside, especially with an accordingly natural decor. For those who don't want to overwhelm the room with a large chandelier (or the matching Sconces), the coordinating Alitalia Floor Lamp is a great, visually interesting substitute for an average, uninteresting looking floor lamp.
6. Floral lighting fixtures can make really dramatic floor lamps. Far from an average post and lamp shade, the Cyprus Grove Floor Lamp by Dimond is perfectly shaped and styled like an oversized vase of black roses. It is much more modern than most of the other floral lighting fixtures, but is a great way not only to add a layer of lighting to a living space, but also a way to add a stylish sculpture.
7. Floral lighting fixtures work surprisingly well in a modern setting. The unique Vivana Chandelier by Elk Lighting is a great example, discarding the stark geometric lines that are usually found in modern chandeliers and replacing it with the sinuous, wild shape of a blossoming tree branch. The combination of a striking chrome finish, tiny glass "buds" and ten globe-style bulbs is an amazing way to seamlessly bring something a little wild into an otherwise stark modern setting – they even have matching Wall Sconces and a similar but slightly differently styled small Chandelier to complete the look.
Whether modern or classical, pretty in pastel or done in dark dramatic colors, floral lighting fixtures are designed to bring a little hint of the natural world indoors, providing a sensuous, detailed artistic accent in place of an average humdrum light. Whether that means the elaborate chrome recreation of a tree branch or a simplified modern impression of petals or, floral lighting fixtures are a great way to bring something a little different into the space.
HomeThangs.com is not only a home improvement superstore, it also provides expert design tips and a comprehensive shopping guide, taking the ideas from professional interior designers, and offering tips to the consumers on how to pick the products to best suit their needs.