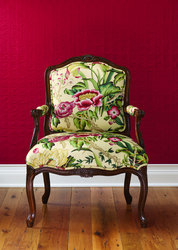 And every now and then, designers reinterpret them in new and unexpected ways. Then we fall in love with floral design all over again.
(Vocus) August 1, 2008
Botanical patterns are blooming again! From upholstery to clothing, ceramics to jewelry, and carpets to wall coverings, botanical design is a growing trend in fashion everywhere. Graphic or stylized, delicate and detailed, fanciful or painterly, the influence of botany in interior design has never been stronger--but there's nothing old fashioned about these flowers.
"Ever since the Dutch painters and botanic illustrators exhibited portraits of exotic flowers in the 17th and 18th centuries, we have desired these lasting images of natural beauty," notes Jan Jessup, national spokesperson for Calico Corners, one of America's leading retailers of fabrics and furnishings. "And every now and then, designers reinterpret them in new and unexpected ways. Then we fall in love with floral design all over again." This season Calico Corners and Calico Home stores are featuring striking new examples of this trend in fabrics by the yard for home decorators.
Floral design in home textiles ranges from realistic renderings to graphic flower power or striking silhouette patterns. They can marry with stripes, plaids, dots and checks in less formal interiors or coordinate with damasks, velvets and silks in dressier settings. (To see examples of what's available in floral patterns, visit http://www.calicocorners.com.)
"Today retro florals are in style and graphic, contemporary florals are all the rage," notes Jessup. "At the same time we're seeing traditional botanic patterns and Jacobean florals rendered in fresh new colors. Vibrant color gives classic design a new dimension and brings it into the 21st century," she adds.
Calico sales associates can show customers how to add a small botanic touch--perhaps one exquisite pillow on a bed--or how to lavish floral toiles or cottage patterns to create a garden retreat. Larger floral patterns are ideal for centering on chair backs, or showcasing in custom bed ensembles on shams or duvets. In draperies, a floral touch beckons the outdoors in.
Celebrating its 60th anniversary in 2008, Calico Corners - Calico Home provides expert advice, decorating solutions and in-home design consultation in more than 100 stores across the country. In addition, consumers will find designer fabrics for the home, trims, custom window treatments, blinds, shades and custom upholstered furniture. Thousands of fabrics are now available online. For more information on Calico Corners or Calico Home products and services, or to find the nearest store location, visit http://www.CalicoCorners.com or call (800) 213-6366.
###