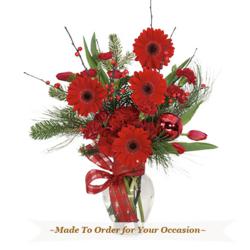 Coupons and discounts from national floral retailers tend to confuse customers who buy flowers online
Indialantic, FL (PRWEB) December 13, 2011
So-called 'deals' abound this holiday season with national floral retailers reaping the benefits of hidden fees and high commission rates by the growing trend to order flowers online.
EZBlomers.com, a new custom flower delivery website, has grown in popularity recently due to their very different approach to ordering floral arrangements online.
"Coupons and discounts from national floral retailers tend to confuse customers who buy flowers online," said Kimba Vasquez, Chief Executive Officer of EZ Bloomers LLC. "The coupons typically don't even cover the service fees these companies charge the customer just for using their site."
Once a customer has made the mistake of ordering flowers from a major retail site, many realize the hidden costs and fees associated with their order and now, during these tough economic times, are looking for a better alternative. EZBloomers.com is a new site which offers the lowest price on flowers because orders go directly to a local florist in the recipient's area, not a middleman. The first price the customer sees is always the final price. Shipping is included in all of the prices as well. There are no commissions or service fees, and the full amount the customer pays goes where it's supposed to: toward their order.
Buying flowers through these companies, even with coupons and discounts, customers can waste a significant amount of what they pay for flowers on fees and commissions. At http://www.EZBloomers.com, the customer gets the best deal every day.
Not only does the customer save money by ordering through EZBloomers.com but the local economy benefits as well. Local florists can receive orders without having to pay wire service fees or wait to get paid. The appropriate revenue for these small businesses then goes back into the local economy, ultimately benefitting the small business owners in that particular area around the country.
To learn more about EZBloomers.com unique business model, please visit http://www.EZBloomers.com. Find them on Facebook at http://www.facebook.com/ezbloomers and/or follow them on Twitter at http://twitter.com/ezbloomers.
About EZBloomers.com: One of the leading online resources working to link top local florists with consumers, EZBloomers.com (http://www.ezbloomers.com/) offers custom floral arrangements without the high-priced service fees that have monopolized the online floral industry. No service fees allow the total amount to go towards what their customers order, allowing for a better quality product and ultimately the best value.
# # #