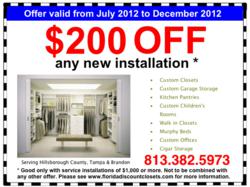 The cost savings for not having to ship custom components in for each install job is passed onto the customer. - Joseph Shea Owner
Brandon, FL (PRWEB) July 17, 2012
Florida Discount Closets is based in Brandon Florida and serves Hillsborough County and the greater Tampa Bay area with custom closets, kitchen pantries and organizational system installations for home, the kitchen, garage home office and more.
When most people think of organizational systems they think of cabinets, or shelves. Many people would be surprised to know that shoe racks are what's really hot right in the space organizing industry now. "Shoe racks can open up a lot of space in a closet or storage area, and are a good investment because they keep shoes from getting scuffed up, dirty and help keep the bugs out." - states Shea.
Ideas and inspiration from custom design and makeover shows helps keep the demand high for the products and storage solutions, Florida Discount Closets offers. Joseph Shea continues "I guess you could say we owe a lot of our business to realty TV shows. People see it on cable and want it, shop around and find out they can actually afford it when they call us."
Products and custom organizer systems systems offered:
custom closets
garage storage
pantries & kitchen storage
walk in & wardrobe closets
shoe racks
reach in closets
People who could benefit from custom storage solutions:
Those downsizing from having kids in the house to smaller one or two bedroom homes.
Anyone living with room mates, who want to keep their belongings in their space, not in the common space.
Anyone seeking to organize items better.
Chefs and people who love to cook, will get a lot more out of an organized kitchen.
Men who move to Florida from up north, miss their basement and need to make more living space in the garage by hiding tools.
Women who want to quickly find the perfect outfit, because everything is visible and accessible.
In celebration of Florida Discount Closets eight year anniversary and introduction of our locally sourced kitchen pantries and shoe racks to our line up of organizational products we are offering a FREE custom closet special. Visit the Florida Discount Closets website at http://www.floridadiscountclosets.com for more information.
About Florida Discount Closets:
Florida Discount Closets, of Brandon Florida is privately owned and operated. Featuring custom closets and organizational products that are locally sourced in the Tampa Bay Area. The cost savings for not having to ship custom components in for each install job is passed onto the customer. Service Area: Hillsborough County
Florida Discount Closets – Joseph Shea
Address: 1025 Axlewood Cir, Brandon, FL 33511
Phone: 813.382.5973
Website: http://www.floridadiscountclosets.com